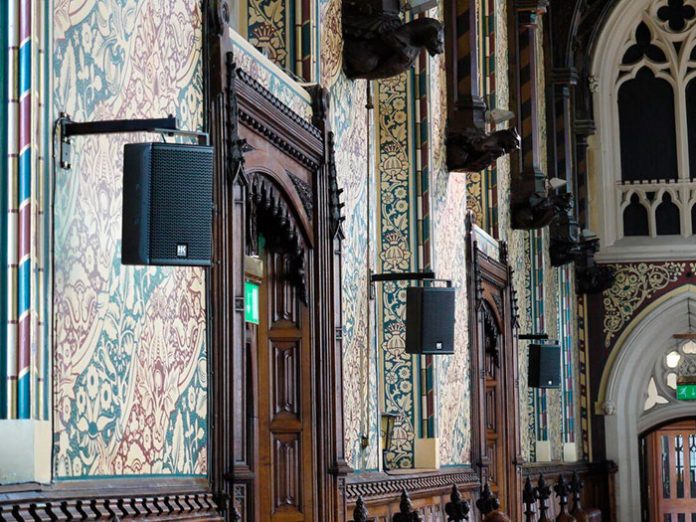 Completed in 1871, Rochdale's Grade 1 listed Gothic Victorian Town Hall is widely regarded as one of the finest municipal buildings in Britain, renowned for its unique and detailed architecture. The Town Hall functions as the ceremonial headquarters of Rochdale Metropolitan Borough Council and houses local government departments, including the borough's civil registration office.
With a need to upgrade the audio system in the magnificent Great Hall, industry specialists National Stage Technology were consulted to propose a system which would provide improved audio quality for the wide variety of special events hosted, while blending discretely with the intricate hand painted walls and ceiling panels and stained glass windows showing an outline of English history from the time of the Norman Conquest to the reign of Queen Victoria. In this beautifully expansive, but highly reverberant and difficult acoustic space, improving speech intelligibility was the major goal.
With leading German manufacturer HK Audio's range having served National Stage Technology well on a diverse range of previous installation projects, NST's Matt Cassidy proposed another HK Audio solution based around CT108 enclosures from HK Audio's ConTour Series. Teaming up with Neville Raine of HK Audio's UK Distributor JHS & Co., on-site demonstration of the CT108's ability in situ immediately convinced all concerned, delivering a significant improvement in quality, clarity and intelligibility.
6 x HK Audio ConTour Series CT108 enclosures were subsequently installed by National Stage Technology, mounted on custom fabricated brackets with HK Audio MS1 L-frames attached, allowing the enclosures to be precisely angled to seamlessly cover the entire room. The CT108's are powered by 2 x Lab.gruppen C28:4 four channel amplifiers.