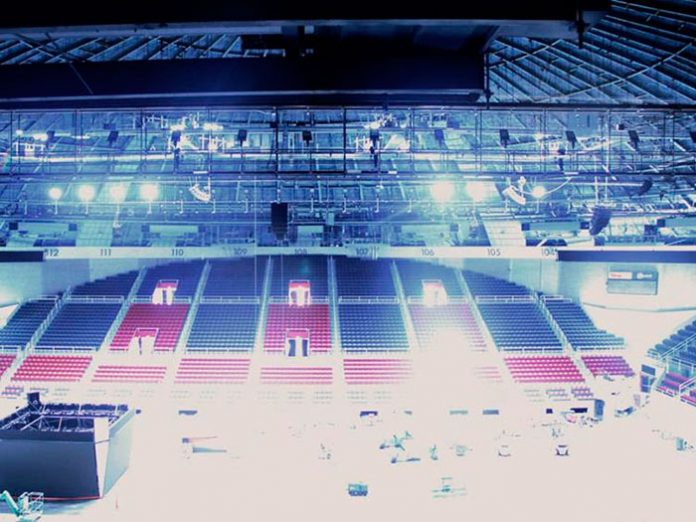 Bojangles' Coliseum in North Carolina has undergone a $16 million renovation which includes a new sound system comprised exclusively of VUE Audiotechnik's al-Class loudspeakers.
"Bojangles' Coliseum became a premiere venue in Charlotte and, to this day, remains one of the strongest buildings in the world," said Jeff Taylor, VP Americas, VUE Audiotechnik. "Everyone from Elvis to The Beatles has played there. They literally removed the same sound system those bands used to install the new VUE system. It replaced a system that was more than 50 years old."
To upgrade the PA system, 56 al-8 and 40 al-4 Scalable Line Array modules, all powered by V6 and V4 System Engines, were installed. The setup consists of ten line-array columns hung in a distributed ring around the room, with two more columns for floor coverage. This allows for one of the floor columns to be hung in two different positions, depending on the type of event: it can be part of the ring for sporting events or can be turned around to act as a centre cluster for a stage event.
"We first heard about VUE Audiotechnik loudspeakers through Alan Smith, owner of Paragon Productions," said Jeff McManus, Technical Director at Bojangles' Stadium. "Jeff Taylor conducted the demo; he, Alan and I all made significant contributions to the system design. The VUE al-8s provided the best bang for the buck and were a no-brainer. They are well constructed, lightweight and, the way they are hung, they are visually inconspicuous to most people."
VUE's al-Class loudspeakers set a new standard for high-definition line arrays featuring CST, which allows for seamless system scalability using all al-Class elements without sacrificing coherency and symmetry, compatibility with VUEPoint beam steering and the latest in transducer design that includes Kevlar/Neodymium mid-frequency drivers and dual one-inch exit compression drivers employing VUE's patented Truextent beryllium diaphragm. Because the al-8 and al-4 share the same size and placement of mid and high-frequency transducers, the two can be combined to create virtually seamless vertical arrays with tight dispersion control.
These characteristics were particularly important for the Bojangles' Coliseum installation. "The room is an extreme acoustical challenge that has caused a lot of grey hair and early baldness for many sound engineers over the years," explained Jeff. "No acoustic treatment has ever been done to the room due to our budget. The solution in this design was to try to put the speakers as physically close to as many listeners as possible via a distributed line array design, while the box counts and amplifiers were reduced in order to stay within budget, as opposed to compromising quality. The system is a modular line array, so it can be augmented at any time."
Bojangles' Coliseum continues to maintain its busy schedule, presenting a wide variety of events. "We have done a lot of hockey games, several graduations, high school wrestling and a church service since the system was installed," said Jeff. "Everyone noticed huge improvements and the local schools no longer have to rent PAs for their graduations in order to have a top-quality event. This will save the community a lot of money now and down the road. The system has good punch to it and surprising bottom end, considering there are no subwoofers installed yet. We initially thought not having subs would be a real problem but for the type of events we do, it really has not been an issue. The system is great as it is, and is a colossal improvement over what we had here in the past."