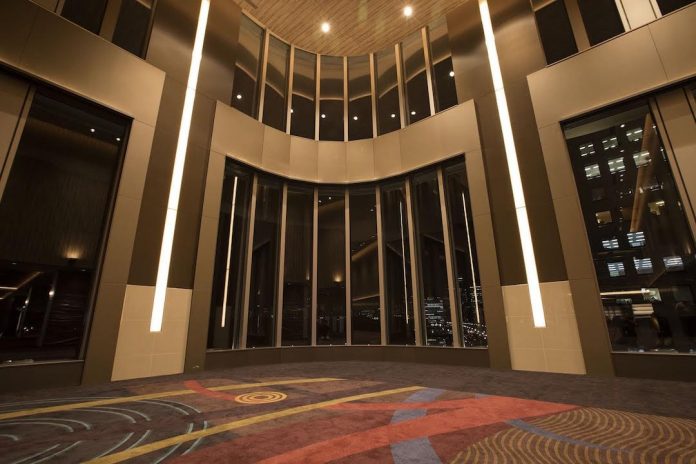 In order to ensure an impactful and immersive cinematic audio experience with balanced coverage for every seat in the theatre, TOHO Cinemas hired Xebex to install a premium surround sound system. To provide perfect coverage from front to back, Xebex selected JBL Professional 9350 sculpted surround speakers for their superior coverage and brilliant sound quality.  
"We required a system that would provide exceptional surround sound and ensure an immersive audio experience from any seat in the theatre," said Shunichi Kobayashi, Director at TOHO Cinemas.
"Customers tend to prefer the back seats when purchasing movie tickets, so it's essential that moviegoers in the back of the room experience the same premium sound quality as those in the front. The JBL 9350 cinema surround speakers installed by Xebex deliver excellent fidelity and coverage, and guarantee an engaging audio experience for all of our valued customers."  
Xebex outfitted two theaters at TOHO Cinemas Hibiya with JBL 9350 cinema surround speakers. Featuring a passive crossover network, waveguide technologies and line array techniques, JBL 9350 speakers enabled Xebex to adjust the coverage to each theater's acoustic needs.
Using the JBL Sculpted Surround System, 9350 surround speakers deliver a widened sweet spot for the audience by shaping the sound radiation pattern of each speaker to compliment the front screen channels. Each loudspeaker generates a sculpted side or rear pattern which can be adjusted with the flick of a switch. The 9350 further enhances coverage by configurable vertical and horizontal coverage angles based on whether the surround is located on the rear or side walls. 
"When TOHO Cinema asked us to install the cinema sound systems at their Hibiya location, we wanted to help them achieve their goal of creating an exceptional cinema-going experience with superb surround coverage," said Ryuichi Ishikawa, Corporate VP & GM of Sales at Xebex. "To their satisfaction, we utilized JBL 9350 sculpted surround speakers to deliver powerful sound that's perfectly balanced from front to back, and left to right—an accomplishment that was previously unheard of in cinema."
"It's a privilege to be associated with TOHO Cinemas and provide a fully immersive audio experience to moviegoers at TOHO Cinemas Hibiya," said Ramesh Jayaraman, VP & GM, HARMAN Professional Solutions, APAC.
"We thank Xebex providing excellent customer service to TOHO Cinemas, and for trusting HARMAN solutions to deliver the precision and power required to exceed their client's expectations."