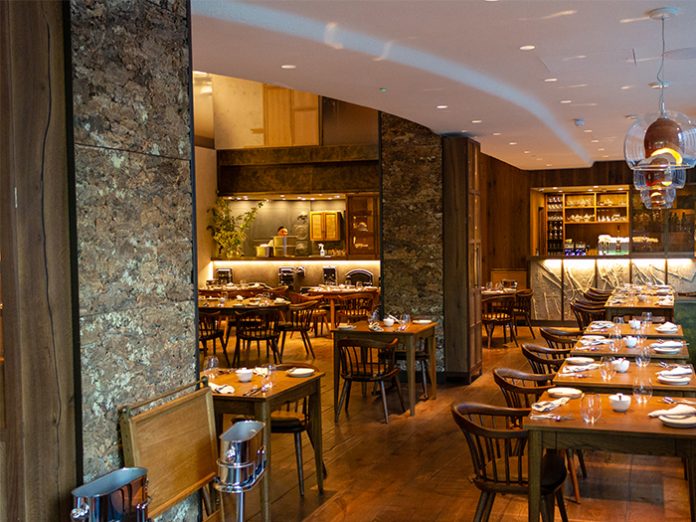 The opulent new Hide Restaurant in London's Mayfair, is the brainchild of leading chef, Ollie Dabbous in collaboration with Hedonism Wines. It features a sound system infrastructure comprising matched HARMAN components, specified and installed by Penguin Media Solutions.
The three floors are linked visually by a spectacular pressed-oak spiral staircase, and audibly by background music, routed by BSS Soundweb, delivered by an array of JBL cutting-edge ceiling speakers and processed in Crown's advanced multi-channel DCi network amplifiers. Two amp racks are connected via BSS' proprietary BLU-Link, with all channels fully assigned.
All HARMAN products were supplied by Sound Technology, the UK and Ireland distributors, and supported by Hugo Burnard, Senior Applications Engineer at Sound Technology's Application Team.
Working to a design conceived by Tatiana and Hedonism's Evgeny Chichvarkin, along with These White Walls studio and Lustedgreen architects, Penguin's Director of Operations, Dylan Thompson has not only equipped the two main restaurants and basement Bar with JBL but also five private dining rooms, corridors, toilets and other service areas.
Located in the subterranean vaults, three private booths known as The Broken Room, The Shadow Room and The Reading Room, contain two JBL AC15 and Control 50S subs, which are concealed behind machined grilles and hidden in walls. Wall modules allow connection of customers' third-party devices via Bluetooth or line-in.
Out in the main bar, the rocky soundtrack achieves even coverage through four potent JBL CT226 ceiling speakers and four JBL Control 50S subwoofers.
Powering the five zones in the basement are a selection of Crown DriveCore DCi 8|300N 8-channel, DCi 4|600N four-channel and DCI 2|300N two-channel network amplifiers.
Upstairs in the main restaurant area on the ground floor are 10 further JBL CT226 ceiling speakers, divided into two zones which also cover the toilets and Reception. The two private dining rooms can operate independently with wall dividers or run as one, using Soundweb's Room Combine function to optimum effect. These rooms also feature JBL CT226 ceiling speakers discreetly concealed Control 50S subs.
Powering the final three zones on the Mezzanine is a second amp rack comprising two more DCi 8|300N network amplifiers and 2|600N. While the latter runs the subs in the private dining room the 8|300N's power the auxiliary speakers. Finally, in the toilets and service areas Penguin have specified JBL 16C/T ceiling speakers.
"There was a fairly basic consultant spec which we adapted, " said Dylan Thompson from Penguin. "The key was for the speakers to be heard but not seen, so surface-mount was not an option."
Soundweb served largely as a matrix router, with 24 ins and 34 outs and different level control presets stored for the different trading hours. "A bonus was that we were able to do all processing in the Crown amplifiers so we could not only save money but also rack space."
Such has been Penguin's attention to detail that all speakers have been RAL matched in different whites and bronze/brass hues. They have also offered 3.5" jack plug-in points and cabled the stupendous cellar for future expansion.
Dylan concluded: "All the trades were brilliant to work with. Once the Apps Team at Sound Technology Ltd had demonstrated the ceiling speakers as the best solution everything else fell into place."