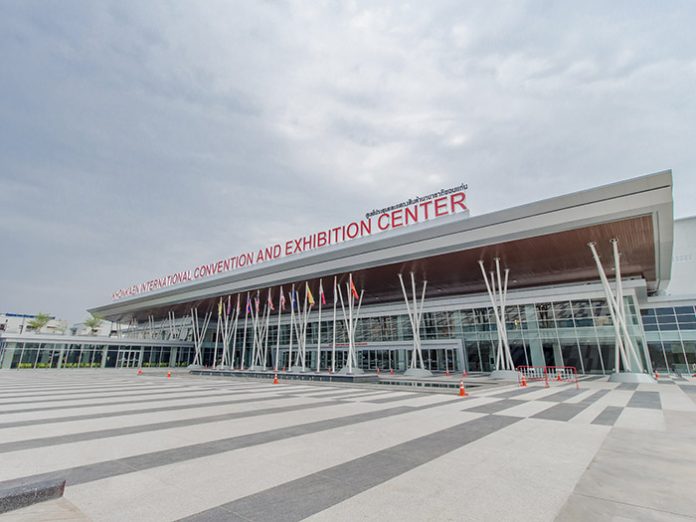 Mahajak Development recently installed a complete, HARMAN Professional Solutions networked audiovisual solution at Khonkaen International Convention and Exhibition Center (KICE) to ensure premium audio quality for a wide range of events and conferences.
Located in the city of Khonkaen, KICE is one of the most popular and versatile venues in Northeastern Thailand and will be the convention hub with facilities of the fastest internet speed, the highest audiovisual technology and premium interior design in this part of Thailand. KICE's crown jewel is its nearly 150,700 sq ft main exhibition hall with room-combined function as well as another seven individual meeting rooms, which regularly hosts high profile events ranging from corporate meetings and conferences to exhibitions. In order to provide an immaculate guest experience at such a wide range of events, KICE recently hired Mahajak Development to install a brand new audio system with HARMAN Professional networked audiovisual system throughout the area, comprised of JBL speakers, Crown amplifiers, Soundcraft mixers, BSS processors and AMX SVSi matrix and controllers.
"KICE required an audiovisual system with enough power and flexibility to provide experiences for any type of event," said Pongaskorn Kanchanachayphoom, Project Director, Mahajak Development. "The biggest challenge was to ensure intelligibility throughout the venue despite its high ceilings. We easily overcame this challenge with JBL speakers, producing crystal clear sound in every corner of the exhibition hall. The HARMAN audiovisual system we installed delivers high-quality sound for both corporate meetings and exhibitions events, and is flexible enough to ensure an engaging experience for attendees at any event."
To achieve impactful audio within the acoustically-challenging exhibition hall, Krissada Vivatvakin, PhD, Managing Director of Atkrist, and Audiovisual Consultant had designed the venue with JBL SCS12 two-way speakers, and Control 16C/T and 14C/T full-range ceiling speakers. The SCS12 speakers were deployed overhead installed for maximum clarity in the main hall, while the Control 10 series speakers provide consistent coverage throughout each meeting room and Crown DriveCore Install Networked series multi-channel amplifiers were used to supply clean and reliable power to the entire JBL speaker system. To ensure great sounding mixes with intuitive control for a wide range of events, Atkrist included Dante-enabled Soundcraft Expression 1 and Expression 3 digital consoles, Signature 12 and Signature 16 analogue mixers. KICE's impressive inventory of Soundcraft mixers enables the staff to easily select the right board for events of any size.
The audio system is networked via a BSS Soundweb London BLU-806 with Dante and BLU-10 standalone wall controllers. While the visual system is networked and controlled by AMX NX-3200 NetLinx NX Integrated Controller with AMX SVSI N1000 series encoders and decoders to provide perfectly matrix and scaled HDMI video support, making it easy for KICE staff to select sources and adjust volume level in each zone of the large space.
"We are honoured to see our iconic brands being used to deliver world class hospitality and entertainment experiences at KICE," said Ramesh Jayaraman, VP & GM, HARMAN Professional Solutions, APAC. "We thank Mahajak for their partnership and deep understanding of their clients' needs, and for trusting HARMAN solutions to guarantee customer satisfaction."