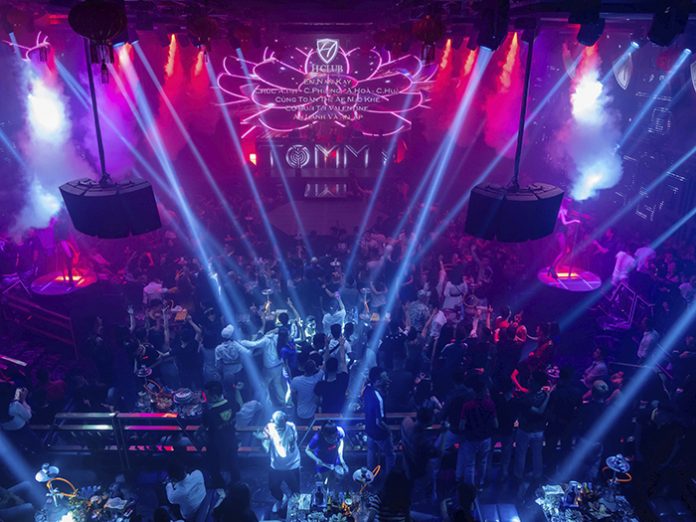 Situated at the Starcity Halong Bay Hotel, H Club has not only revived the golden age of nightlife in Vietnam but has also raised the standard of performance and production to a new level. It follows the business philosophy of enhancing the customer experience by providing the latest technology and advanced architectural design, construction and general services.
To reach this goal a Martin Audio THV three-way biamp loudspeaker system—purpose-designed for advanced nightclub performance—was detailed as the centrepiece of a high specification package provided by Duc Proaudio, Martin Audio's Vietnamese distributor.
Halong Bay is widely considered to be one of the seven wonders of the world. Located in the middle of the Bai Chay tourist centre, H Club was been built on an area of 4000sq.m and has a capacity of 1200 people.
With more than 10 years' experience, the investor, Bui Minh Hong has made an enormous contribution to the nightlife tapestry with venues such as Ha Long Club, New Ha Long Club, Ha Long View KTV, Phantom Karaoke. In putting together his operational team for this latest venture, Bui said: "If you come to Ha Long and don't visit H Club, we would consider it as not coming to Ha Long Bay at all." A visit to H Club, he says, is required to fully appreciate how this level of investment has taken the clubbing experience to a new height.
The investor selected Duc Proaudio, as the audio design consultants and installation contractors. Pham Duy Duc, Director of Duc Proaudio, had no hesitation in recommending Martin Audio: "If you are a serious player then you will have heard the superior sound of Martin Audio systems, as it is a brand name trusted by leading bars and clubs in Vietnam and around the world. Typical names using Martin Audio sound systems, supplied by Duc Proaudio are Gold 2 Club, Canalis Club, Barroco Club, Deluxe 030 Club, Kashso Club, XingXing Club and Gaia Lounge in Hanoi."
"But," he continued, "the sound system required at H Club takes this to a completely different level." And by this he was referring to the new THV. "These loudspeakers were developed last year to replace the existing H3+ series in Vietnam."
This high-performance, high bandwidth fully horn-loaded system contains a Hybrid 15" LF with reflex loaded 4" voice coil and 'Phase Ball' loaded midrange. Driven by a 10" midrange driver, it maintains the constant directivity characteristics of the horn at the upper end of its range. The 70° by 40° HF section features a 1" neodymium exit compression driver, with Kapton diaphragm for extended HF performance.
According to Pham, this creates a clear, high SPL sound with its own distinct signature: "The sound feels lighter and those who come to H Club will definitely form a strong impression—especially with the SXH218 subwoofer, which is set up based on the latest Martin Audio Subwoofer Array Arc Delay Calculator software. This creates bass uniformity throughout every position in the club, which really comes alive."
To achieve this they specified 16 THV enclosures and 16 SXH218 subs, with a further 16 CDD15B as speaker delays.
These are powered and processed by Martin Audio MA2.0 and MA5.2K amplifiers, with an iK42 running Dante from a DiGiCo SD11 mixer.
The DJ monitor system also features four CDD-LIVE 12 and four SXP 118 subs.
Summing up the installation Pham Xuan Chien, General Manager of H Club, said: "There are only two places where you need to experience a sound system at this level: one is at festivals and stadiums, the other is nightclubs. I believe we have achieved this here."