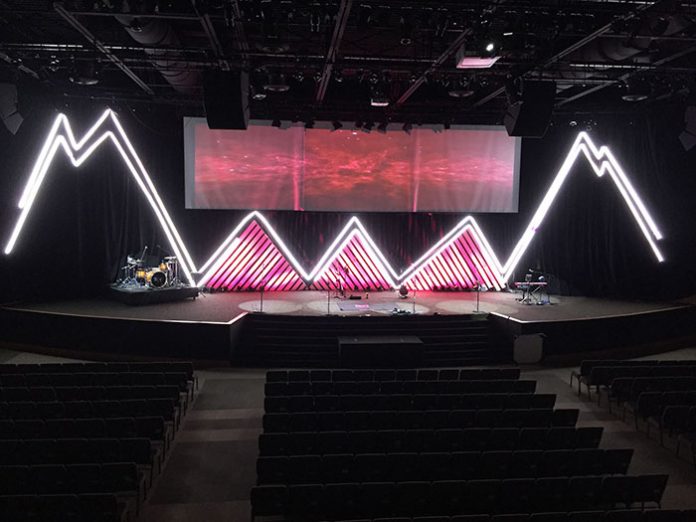 The St. Augustine Lighthouse has been a beacon for Florida mariners since it was built in 1874. Similarly, the Anastasia Baptist Church, also located in what is the oldest city in the United States, describes itself as "a spiritual lighthouse" for its members. Guitar Center Professional (GC Pro), the business-to-business division of Guitar Center providing highly customised service for professional accounts, has been a partner with Anastasia Church for the last three years, helping it keep its message clear and articulate.
The church's main campus houses its Christian Life Center, a 15,000-square-foot sanctuary holding up to 1,200 worshipers. To enhance the worship experience in the sanctuary, Eli Higginbotham, the church's Technical Director, again sought GC Pro's help, and GC Pro responded. Jeff Aldrich, GC Pro Account Manager of North Florida at GC Pro's Jacksonville office, recommended a new video system consisting of four Sony EVIH100V HD cameras, a Sony RMBR300 EVI BRC PTZ VISCA remote control unit, and a Roland V-40HD multi-format video switcher integrated into the churches existing video platform. The project also saw two 80-inch Sharp LCD monitors installed in the main sanctuary as well as 60-inch Sony monitors in two classrooms on the campus. In addition, a second, smaller sanctuary that seats 600 for more traditional worship services, had a JBL CWT128 8-inch 2-way loudspeaker system suspended above the orchestra area. Sound System Engineering was the approved GC Pro AV system integration Affiliate that assisted in the systems' design and performed the installation.
To illustrate the church's 2016 sermon theme around mountains, the church suggested a custom LED lighting strip that would outline a mountain background lining the rear of the stage in the Christian Life Center. Lighting was addressed in a unique way for this systems upgrade: the installation of a 400-foot run of Aspect LED RGBW strip lighting tape to line the mountaintops that were designed and built by Doug Brown, Florida School of the Arts Technical Director. "The church wanted to enhance their media capabilities and the overall worship experience," Jeff said. "We've been working with them for the past two years, helping them do exactly that for all of their AVL needs." Each and every component of the systems that GC Pro recommended was tailored to the church's specific needs. For instance, the 180-degree dispersion pattern of the JBL CWT128 was what Jeff calls "a phenomenal fit" with its programmable wave pattern. "One speaker for the entire choir and orchestra monitoring system," he said.
Eli noted that the relationship between himself and Jeff goes back nearly a decade, to a time when Eli worked as a manager for several Guitar Center store locations in the Southeast. "Jeff was one of my reps, and he was one of the best, so it was natural for us to continue this relationship when I came to the church," he explained. Eli said Jeff's astuteness is GC Pro's approach to dealing with clients, starting with the installation of new video cameras at the church two years ago, the results of which he described as "spectacular."
"They took care of everything then just as Jeff did with this most recent project, including sourcing the electrical contractor for the new lighting," he said. "The great thing about working with GC Pro is, you never have to go anywhere else. They have it all."
And as good as the technology has been for the church, it was the reaffirmation of the relationship that will be most enduring, and of the most benefit to the client. "The intangibility of a trusting relationship is really what GC Pro customers are experiencing," said Jeff. "I'll always be there for them, and that means that GC Pro, with its huge depth of resources and its pricing power, will always be there for them. No one else offers that level of support."