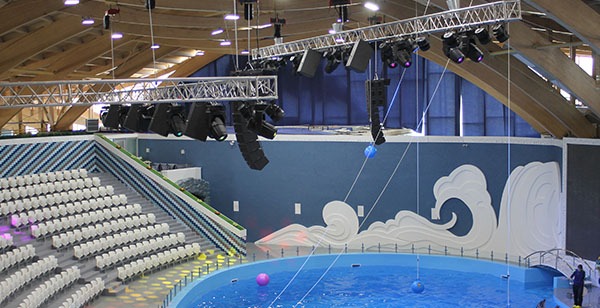 A new Dolphinarium has opened in the Chechnyan capital of Grozny—the centrepiece of a major new complex that also includes several parks, attractions, race circuit, restaurant, theatre and an equestrian park. The total area of the facility is more than 300,000- sq metres.
The Grozny Dolphinarium itself measures around 10,000-sq metres and includes eight swimming pools for training and a recreation area for animals where they can engage in water performance. In the centre is a 12-metre diagonal screen where up to 665 people can watch the water show.
The LTM Group was tasked with developing project documentation for the sections of stage lighting, electro-acoustics and suspension system, as well as the installation of acoustic and lighting equipment. A high technical specification was set for the audiovisual, with particular attention given to the central pool, and for this, fully-featured IP65-rated fixtures from PR Lighting were specified.
Having installed suspension frames for the stage lighting and sound systems over the water area, LTM, who are PR Lighting's Russian distributors, specified 24 IP65-rated PR Lighting AQUA 480 BWS as well as numerous Junior PAR ZOOM Series JNR-8154B Series fixtures, mounted on aluminium MDM frames.
Designed for use outdoors and in wet conditions, AQUA 480 provides three features in one (beam, wash and spot), combining advanced 480W lamp with a superb optical system, ideal for outdoor entertainment, concert, stadium and any other activities or events. The fully-featured JNR PAR ZOOM contains 19 x 5W (4-in-1 RGBW) LED lamps and also has an IP 65 rating.
LTM Import Manager, Roman Yakubovskiy, said "We recommended PR Lighting Junior to meet the client price requirement and the specification, and the AQUA 480 BWS because this product has IP65 protection level. This suits projects with high humidity and where the product needs to function on direct contact with water, as is the case with Dolphinariums.
The lighting control system is based on MA onPC command wing and MA onPC fader wing.
The achievement of the LTM Group in designing and installing not only the sound and lighting but also the broadcast system was all the more remarkable as it had to be implemented in an extremely short time frame.
http://www.pr-lighting.com/