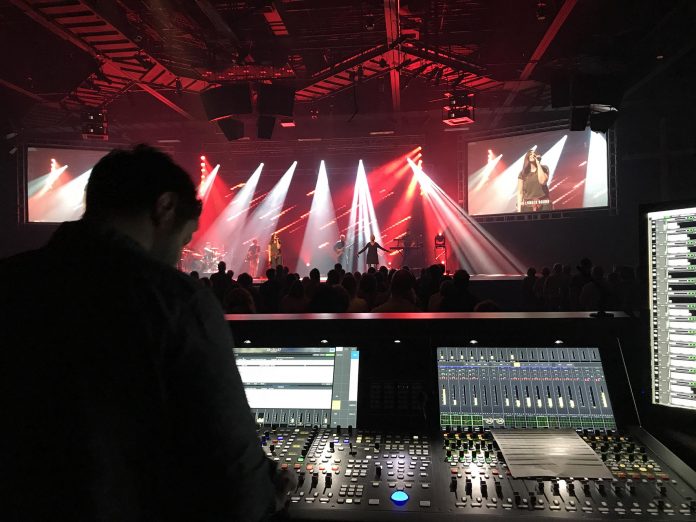 Granger Community Church has selected Lawo audio consoles and AoIP network solution to
upgrade the audio system at their main worship center in Granger, Indiana. The facility regularly hosts as many as 3,000 people on a given weekend with full band, singers, worship leaders and audio playback elements and broadcast feeds all handled by the main audio system with separate consoles for FOH and monitors interconnected and able to share all I/O between them.
The newly installed system features a 48-fader Lawo mc²56 console handling front of house
and broadcast mix duties, with a 40-fader Lawo mc²36 console for monitors. Both consoles can independently access and control all sources over an IP-network created by fiber connections to a Lawo Nova37 router. Several Lawo stageboxes are also connected to the Nova37 IP router, including two Compact I/O's and a DALLIS frame, as well as an A__digital8 located in the mainaudio rack for handling discreet AES digital signals. The Nova37 is a plug&play audio router serving as a IP "cloud", providing for all connected consoles immediate access to all sources whilst a comprehensive user rights management ensures secure operation.
The mc²56 is capable of a maximum of 888 fully configured DSP channels with 144 summing
buses and 8,192 x 8,192 mono-channel matrix capacity. The console offers complete flexibility to route and assign any combination of input and output signals to any faders and includes Automix capability, built-in dynamics and signal processing along with tight integration and control of a Waves Soundgrid system for additional effects plug-ins which can be assigned and controlled directly from the console surface. The mc²36 console handles monitor mix duties and includes up to 192 DSP channels with its own internal 512 x 512 router and all the same features and functionality offered on the mc²56.
Lawo's modular DALLIS stagebox frame provides 72 inputs and 48 outputs for stage I/O and
each compact I/O offers 32 mic/line inputs, 32 line outputs, 8 AES3 I/O (stereo pairs) and 8 GPIO. One is located on the drum riser and one is in the broadcast booth.
Granger's Production Director Tony Staires states, "We were looking for a system that provided excellent sound quality and reliability and had the flexibility to expand and grow with us through the years as our requirements continue to evolve. After a thorough evaluation of a number of different competitors, including live demos, the decision was made to go with Lawo based on the amazing sound quality, flexibility and expandability. Support was also big consideration for us, and Lawo has been great to work with in that regard."
https://www.lawo.com/home.html