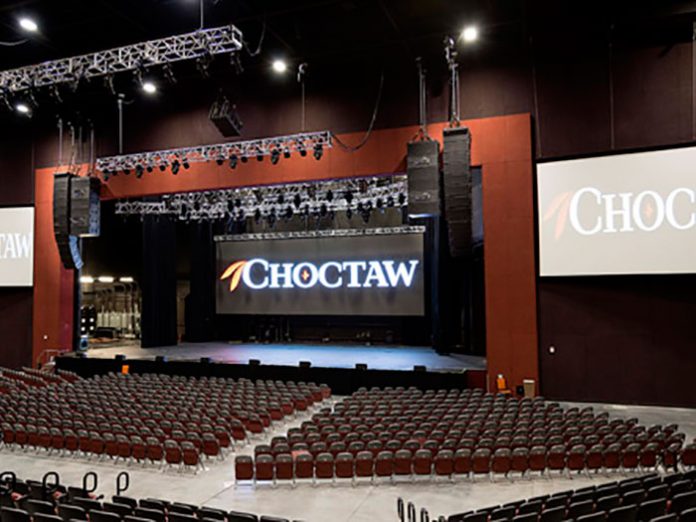 Choctaw Casino Resort in Durant, Oklahoma has opened the Grand Theater, a multi-purpose venue featuring one of the largest Meyer Sound LEO Family line array system installations in North America. Since opening with a sellout show by Aerosmith, the Grand Theater has hosted acts such as Kiss, Kid Rock, Boyz II Men, and Kenny Rogers.
"Listening to LEO is really like listening to a very high quality stereo system, with that level of imaging and detail," said Doug Ebey, Audiovideo Manager for the theatre. "What impresses me most is that we can get full, in-your-face concert sound and still stay within our preferred level limit, which we cap at 100 dB. Everyone has been thrilled with the performance of the system."
LEO Family loudspeakers were chosen for the 3,000-capacity venue by the Las Vegas-based consulting firm Coherent Design, which was charged with design and specification.
"The owners asked us for a sound system that would compete with the best venues in the area, including those in nearby Dallas," said David Starck of Coherent Design. "They wanted to fully support 'A-level' acts without bringing in rental systems, and we were confident from the beginning that a LEO-based system would handle anything they would throw at it. We probably could have done the whole system with LYON, but the extra headroom of LEO gives that in-your-face sound with zero distortion. It really takes the sound to another level."
To ensure uniform coverage with abundant headroom, Starck specified a main system of eight LEO-M over four LYON-M line array loudspeakers per side, four LYON-M loudspeakers as centre fill, and two flown arrays of six -each 1100-LFC low-frequency control elements in a cardioid configuration. Eight JM-1P s and eight UPJunior VariO loudspeakers supply out fill and front fill, respectively.
Four MJF-212A and 12 USM-1P stage monitors provide onstage foldback, while two UPQ-1P and four JM-1P loudspeakers, one 600-HP subwoofer, and two 1100-LFC elements provide side and drum fill. Drive and optimisation is provided by a Galileo Callisto loudspeaker management system with four Galileo Callisto 616 array processors.
Upcoming shows at the Grand Theater include Counting Crows, Rascal Flatts, The Jacksons, Merle Haggard, and Styx.