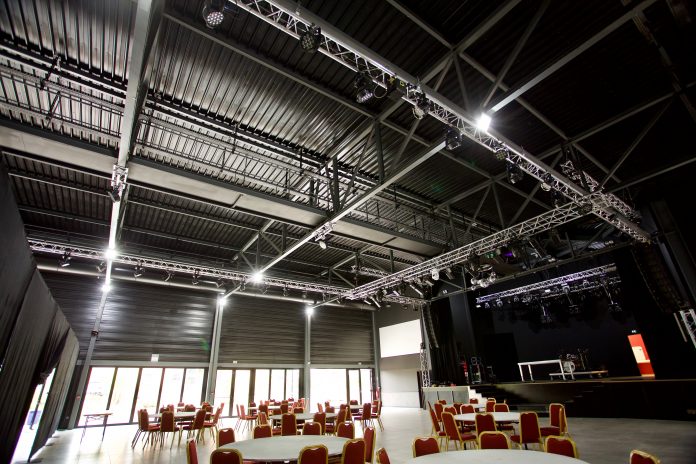 Chateau de la Garrique, also known as Chateau Lagarrigues, in Villemur-Sur Tarn near Toulouse had certainly seen better days – until a few years ago, when the 19th-century castle changed hands and was gradually transformed into a luxury hotel with suites of up to 70 m2. While the operator has left the exterior of the hotel mostly untouched, retaining its historic flair, the surrounding, 12-hectare park has been radically transformed and features amongst other things the 2017-inaugurated Grand Piano Hall – a state-of-the-art event hall in the shape of a grand piano
A Comprehensive Event Solution
Together with the luxury resort and other facilities, the Grand Piano Hall provides a comprehensive event solution for weddings, conferences, corporate events and much more. In order to provide the most flexible lighting for the 1,600 m2 hall with a ceiling height of ten metres, the planning service provider, AudioLum, used a wide range of spotlights, hazers and show lasers from Cameo Lights.
Founded in 1989, AudioLum gradually gained a reputation on a national level for planning and implementing tour productions, festivals and fixed installations. For several years, the company has relied on the Cameo FLAT PRO 18-LED PAR spotlights, which have now also been installed at Chateau Lagarrigues.
Cameo PARs as Visual Foundation
In order to maximise the flexibility of the events area, Rija Randria, technical manager of the Grand Piano Hall, installed several Cameo spotlights on a seven-metre-high traverse beam structure. The fundamental lighting was created with a combination of 42 STUDIO PAR 64 CAN spotlights with 12 x 12 W RGBWA+UV LEDs and eight of the aforementioned FLAT PRO 18 LED PAR spotlights with 18 x 10 W RGBWA LEDs.
LED Bars and Effect Spotlights
The LED PAR spotlights were augmented by eight PIXBAR 600 PRO LED bars with 12 x 12 W RGBWA+UV LEDs, facilitating silent, flicker-free operation (in combination with potential cameras and/or LED walls). Ten THUNDER WASH 600 W 3-in-1 LED spotlights deliver a combination of stroboscope, blinder and wash light effects.
Also in situ in the Grand Piano Hall are four IODA 1000 RGB show lasers, each with 1,000 mW of power, as well as two INSTANT HAZER 1500 T PRO hazers from Cameo's Instant series – perfect for critical applications due to their extremely short warm-up time of only 45 seconds and their practically noiseless operation.
"The Grand Piano Hall provides our guests with a versatile, state-of-the-art event location for a variety of events. For this reason, with regard to event technology, it was important to us to have a strong partner with a wide portfolio, professional advice and comprehensive service. Utilising Cameo products from the Adam Hall Group, we have fully met these requirements", confirmed Rija Randria, technical manager of the Grand Piano Hall at Chateau Lagarrigues.
Further Investments Planned
The musical instrument theme continues outside the Grand Piano Hall. The outline of the pool resembles the contours of a cello. Here too, the management are planning a detailed outdoor lighting installation for the near future, utilising IP65-certified Cameo spotlights.