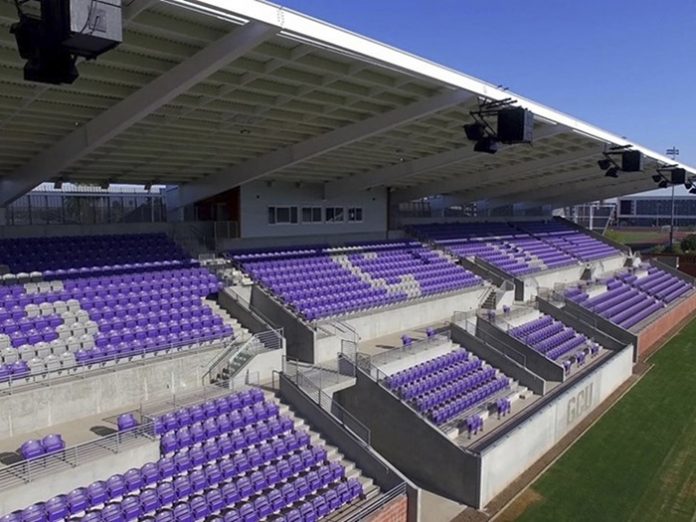 Grand Canyon University, located in Phoenix, Arizona, is on a mission to build 10 new sports venues in the next two years. They kicked off their 10-in-2 initiative with GCU Stadium, a state-of-the-art soccer stadium that boasts a new EAW QX sound reinforcement system designed and installed by Sound Image's Tempe, Arizona-based office.
"The president of the university really likes using audio to generate energy for the fans," explained Ben Davis, Project Manager, Sound Image. "He wants all of their sporting events to be high energy – the EAW QX system hit all of their check marks for what they wanted for the stadium."
After reviewing the University's public bid, Davis put together a design based on EAW QX loudspeakers that fit their criteria. He also included an EAW SB2001 subwoofer option for consideration now or in the future. The school was so impressed, they decided to not only award the project to Sound Image, but have them install the SB2001 subs along with the QX loudspeakers.
"They wanted loudspeakers that would create a chest thumping experience, had exceptional audio quality, and could be weather-proofed to withstand the rigours of an outdoor installation while adding to the longevity of their investment," Ben added. "QX has enough paper to create the punch, the SB2001 subs provide tremendous low end and EAW does a great job with weather-protecting their products. It was perfect – it hit all of their check marks."
The new stadium features seating capacity for more than 6,000 spectators, including 3,000 shaded chairback seats. The QX system consists of six clusters mounted along the roof structure above the seating section. Each cluster is made up of two QX loudspeakers – one QX594 firing straight down and a QX564 for long throw – with two SB2001 subwoofers located directly behind the QX boxes for that 'chest thumping experience' they wanted.
"The sound quality from EAW is exceptional," Ben said. "And because the QX has the two different loudspeaker angles – the 594 and 564 – it was simple to get even long and short throw coverage throughout the stands."
Ben continued: "We were required to hang the loudspeaker clusters from a small I-beam while maintaining shear and our 10:1 load rating – which we accomplished with rigging systems designed and manufactured by Sound Image. Better yet, we were able to get it all done in a day, which was the time allotted by our client."
The QX loudspeakers feature four Phase-Aligned 12-inch low frequency transducers arranged as vertical and horizontal pairs around a central coaxial mid/high-frequency horn. This arrangement provides exceptional fidelity as well as very high output and control across the entire operating range, providing designers the ability to achieve high impact and consistency even in large facilities such as the GCU Stadium.
"The school is extremely pleased with the end result," concluded Ben. "As a matter of fact, a huge storm came through a while back and destroyed part of the building's roof. Fortunately, EAW loudspeakers are built to withstand just about anything – when the dust settled they were still hanging and worked just fine."