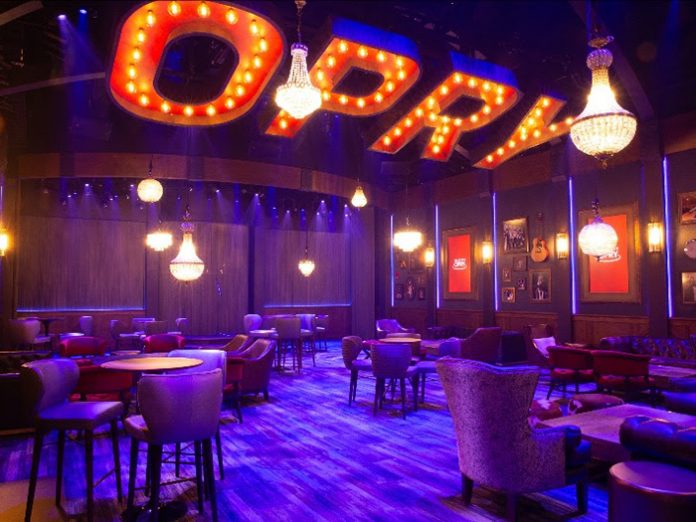 This summer, Nashville's legendary Grand Ole Opry unveiled a new daytime backstage tour based around the new, purpose-built Circle Room theatre. Hosted by Opry members Garth Brooks and Trisha Yearwood, a 14-minute long immersive media experience takes fans on a journey through nearly 100 years of Opry history, seen through the eyes of the musicians who played on the world-famous stage, and features archival footage and concert-like special effects.
The Circle Room serves as the centrepiece of a $12 million Opry House expansion and renovation project aimed at enhancing the guest experience. This innovative production marks the opening of the new backstage tour, which continues into the renovated Opry House Lobby, featuring a custom lighting element made with Gibson guitars and a special media presentation.
As the introduction for the new tour, The Circle Room experience is dominated by state-of-the-art LED concert and mood lighting from GLP, specified by a consortium of interactive creative, conceptual and lighting specialists, headed by design and production agency BRC Imagination Arts. Under the creative direction of Brad Shelton, Edward Hodge, and a team of designers, they conceived and designed the Opry Circle Room, which at night transforms into a VIP upgrade area for Opry show guests. It includes 340 lighting fixtures—many of them from GLP—as well as four projectors and five LED screens.
BRC, in turn, brought in Brian Gale and Manny Treeson of LA-based lighting design company, NYXdesign, while one of GLP's dealers, Clearwing Systems Integration, handled the installation, with all three companies having collaborated regularly in the past.
In total, GLP fixtures included 63 X4 atom, 48 impression FR1, 26 X4 Bar 10, 26 KNV Cube, 8 KNV Arc. For the brand new KNV modules, this project represents their first high-profile fixed installation.
While Brian was already familiar with GLP's X4 atoms, FR1's and X4 Bars, the KNV's were new to him and resulted in having the fixtures variously mounted on overhead lighting battens, walls, and scenic elements.
"For the Circle Room we deployed a very complex array of lighting equipment in order to enhance the AV experience," Brian explained. "Basically it was a mini-concert lighting rig, and we used the atoms as house lights and curtain washes overhead. The KNV's served as the centre stage backdrop and the FR1's and X4 Bars as audience effects and blinders."
Mounted on the upstage wall, the X4 Bars highlight curtains and provide effects, while the KNV fixtures operate in 202-channel mode to provide a variety of mapped effects.
A matrix of FR1's, above the audience, provide a versatile, colour changing house light which gives the room additional flexibility.
By being synced to the track, the lighting rig was used to amplify the music as well as serving as a transition element in conjunction with the video. Josh Selander, a regular NYX/BRC collaborator, handled the programming.
"The most attractive part of the GLP inventory in this application was being able to deliver concert-style lighting effects in a compact form," said Brian. "The Circle Room is relatively small but the GLP rig makes it feel like the mainstage of the Opry or any other large stage venue. Basically they gave us lots of looks in a confined space."
Thanks to the judicious deployment of the GLP fixtures, Brian and Manny doubled the guest 'experience', changing between a concert-style lighting rig and something more ambient and decorative, as Brian explained. "When the guests enter the space, it appears as an intimate VIP lounge with wall art, chandeliers and a bar. The guests sit in couches and leather chairs and feel very much like they are experiencing the Opry backstage VIP Green Room. But when the show starts and the house lights start to change colour to the music, the curtain at the end of the room turns into a projection surface and the space transforms into a full-on concert venue."
"With millions of fans and a rich legacy, The Grand Ole Opry serves as one of the most compelling musical institutions in America," said Edward Hodge, Creative Technical Director at BRC. "From the very beginning of this project, we developed a team that understood exactly what types of technology would be needed to create a fully immersive experience from the artist perspective, and it all came together splendidly."
For Clearwing, Kurt Schnabel led the design phase and Mike Jonas served as the project manager. According to Mike: "At the end of the day, the show looks incredible, and the programmer and NYX were able to create some great looks with the various fixtures."
"The talented members of all the teams involved, from lighting and music to stage design and film, were truly instrumental in the development of The Circle Room, incorporating a wide array of technologies to take the Opry's audience through an amazing experience like no other," explained Brad Shelton, Creative Director at BRC. "Our collaboration with the wonderful people at The Grand Ole Opry provided our team with the perfect elements to create a moving, emotional story that establishes even deeper bonds with their fans, taking them on a journey they'll never forget."