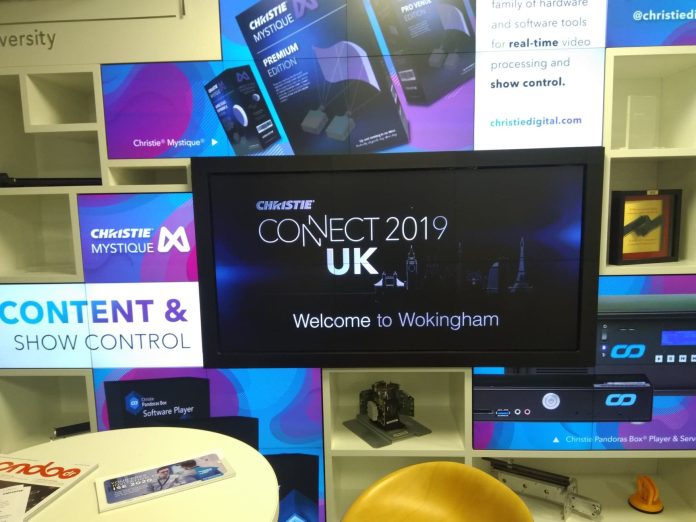 DIGITAL EXCLUSIVE: October 2019 saw Christie Digital open the doors of its headquarters for another round of Christie Connect open days. The company, who specialise in digital projection and display technologies, held a range of presentations, demonstrations and tours for those in attendance to see what the company has recently been up to. Also celebrating its 90th birthday, Christie Digital used the open day to reflect on its journey so far and its product expansion. After nine decades in the industry, Christie have revolutionised cinema projectors, and Christie Connect 2019 played homage to all they have achieved.
One of the first presentations of the day was led by Senior Product Manager, Mike Garrido. Talking the audience through one of Christie's newest and most established products, the D4K40-RGB projector, Mike explained the advantages of the product as well as suitable applications and his part in the production: "The D4K40-RGB is a newly developed projector incorporating a host of proprietary technologies developed with Christie's extensive engineering expertise," he said. "It is also compatible with Christie Mystique automated camera-based alignment software solution, as well as Christie Guardian, which provides invisible, real-time automatic blended-image correction even when content is playing." The vivid colours the projector produces are down to a combination of TruLife electronics and 4K resolution, allowing the D4K40-RGB to reveal an incredible depth of detail.
The day's presentations were held in Christie Digital's very own cinema room, which is located in their facilities, allowing products to be proofed and tested by the team before they are launched. Following on from Mike's discussion, the Christie team talked through the company's legendary prevalence within cinema and its future plans.
Cinema loudspeakers are a new venture for Christie, and they were thrilled to be able to talk about it at the open day. Discussing the Christie Vive Audio loudspeakers, Chris Connett, Business Development Manager at Christie, explained how they are currently revolutionising the industry through the development of the audio side of the business.
The Vive Audio loudspeakers have been designed predominantly for today's immersive cinema audio applications. Comprising of LA Series and LS Series loudspeakers, S Series subwoofers and CDA Series amplifiers, Christie have designed an audio range that packs a big enough punch for some of cinema's newest and most exciting displays. To showcase the sheer power of the system, Chris played a range of trailers from films including Todd Phillips 'Joker' and Will Smith's most recent performance in 'Gemini Man', transforming the entire space into a popcorn scented cinema screening with the ground-breaking sound to match.
Christie's headquarters are located in Wokingham and the facilities house most of their UK based staff who work in all areas from marketing to product repair. During the guided tour, guests were shown a range of products from projectors to LED screens that can be used for everything from sporting stadiums to live touring. Guests were also given an insight into how Christie deals with product faults in a workshop where patience and a keen eye for detail is key, as the intricate job is so important for customer retention.
Miles Donovan, Senior EMEA Channel Development Manager at Christie, said: "Its hugely important to us that we are able to connect with our customers and showcase our current and future technologies. Christie Connect offers a unique chance to see beyond the product and meet the various departments, teams and people behind our company and brand, including direct discussion, updates and feedback with our product management and engineering team."
Mike concluded: "The Christie Connect event is an amazing yearly opportunity for Christie personnel, from service to sales to product management, to meet with many of our customers from every market we support.  It provides an opportunity that helps re-enforce our open channels of communication, review existing products, and introduce new products, as well as discussing market trends and end-user customer needs.  I know I look forward to it every year and by feeling the excitement and seeing the commitment from all the Christie personnel in all our offices, I know they look forward to it too."