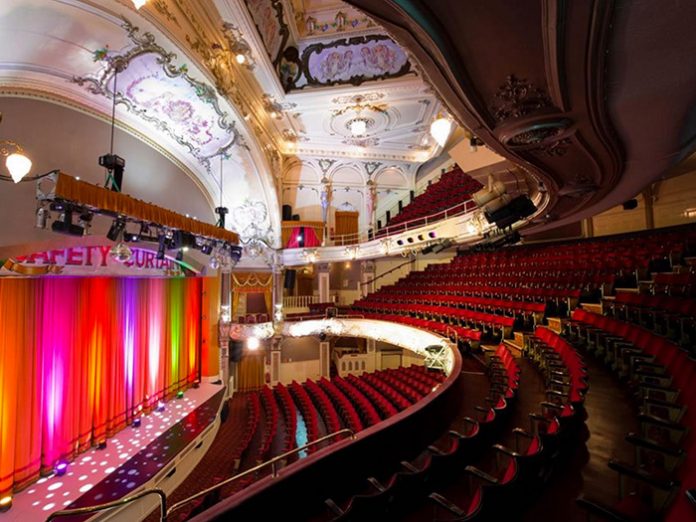 One of Scotland's oldest and most renowned theatres, The Pavilion, has invested £100,000 to bring high quality audio to the many comedy, music and variety performances it hosts. Working with leading pro-audio partner, The Warehouse Sound Services Ltd, The Pavilion chose to invest in a cutting edge d&b audiotechnik sound system. The system is one of the most advanced on the market.
The Pavilion's management team recently restored the theatre's exterior, revamping the stonework outside the theatre and incorporating a coloured light installation. Iain Gordon, General Manager, of The Pavilion, contracted audio partners, The Warehouse Sound Services Ltd, to design, supply and commission a new loudspeaker system.
The Pavilion has been a cornerstone of Scottish entertainment for more than a century. The 111-year-old Pavilion is now the only privately run theatre in Scotland. With a rich heritage in bringing in high profile shows with comedy acts such as; Billy Connelly, The Mighty Boosh and Mrs Browns Boys. As well as musicians including; Sheena Easton, Sydney Devine, Barbara Dickson and Wet Wet Wet plus plays including 'The Steamie' – the venue required a complete audio equipment overhaul to continue providing this high calibre of entertainment.
Iain Gordon, General Manager for the Pavilion Theatre commented: "We really could not believe the change in the overall sound with this new d&b system. It is amazing how the sound now travels throughout the theatre. The clarity throughout the frequencies has brought sound to areas never covered before. It was great working together with both The Warehouse and Gavin on this project, which we feel is unique due to the varied types of productions we have throughout the year."
The new system consists of six d&b audiotechnik, Yi7P loudspeaker, installed on the left and right proc arch, two Yi7P, installed centrally on the front of house truss and two Y-Sub installed at the front of the stage. Front fills and under balcony delays were taken care of by compact EM Acoustics EMS-51 loudspeakers.
A further two Y7P, two Y10P and two Y-SUB can be positioned on the stage left and right when required. The new d&b MAX2 wedge monitor loudspeakers are used on stage. D&b 30D installation amplifiers power the whole system.
The system has been used very successfully over the last few months, but its real test will come later this month when the annual Pantomime opens. Santa Clause is coming to town launches on the 25 November.
Iain said "We have had a great response from performers and audience members who usually only comment when the sound is bad. The system has settled in well and we look forward to this year's Pantomime which will put it to test and we are really confident that we have one of the best theatre sound systems in Scotland and maybe the UK"
Derek Blair, Director of The Warehouse commented: "The system design was a real challenge for us, as this is a variety theatre, so it has to cope with comedy, rock and roll, and theatre. It has to be multi-configurable to be able to adapt to all types of performance. I think we have achieved this and believe that this is the most up to date and advanced theatre sound system around. We are very proud to have been asked to supply this system to Scotland's oldest traditional variety theatre."