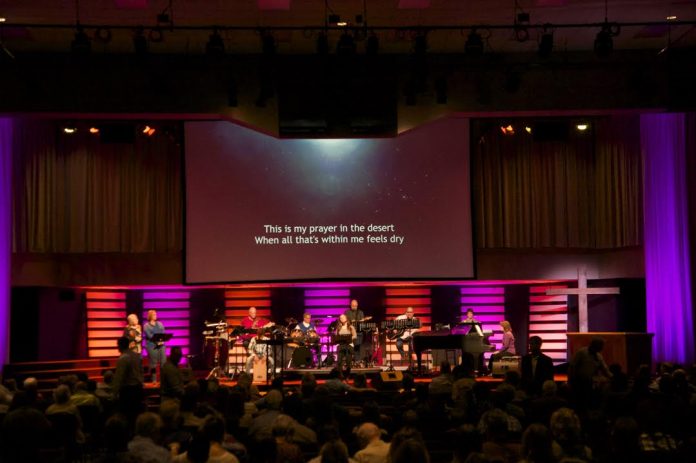 Getwell Road United Methodist Church had clearly outgrown its stage lighting system in 2012, when Jeremy McCullough joined the vibrant house of worship as its Technical Director. "Stage design wasn't even an idea at that time," he recalled. "Yet the church was actively seeking to reach worshippers with dynamic new events that required a better stage presentation."
After trying to add isolated fixtures here and there, Jeremy decided something more had to be done, so he journeyed to the WFX conference seeking expert advice. He found it in the person of Greg Persinger of Vivid Illumination. What resulted was not only a new lighting system anchored by a collection of Chauvet Professional fixtures, but an expanded and more impactful role for the church in its community.
"I went to WFX Dallas in October 2014 and attended a breakout session on lighting that Greg was leading," recalled Jeremy. "Greg shared his heart for serving churches and teaching, which led me to connect with him. We started communicating about Getwell Road and its lighting needs in December."
Jeremy explained that his church was looking for a lighting rig that would be bright and flexible enough to keep pace with its video system. "We run IMAG projected onto a large screen," he said. "In the past we had major issues in general wash, balance of light, and a lack of flexibility, which limited us creatively. I explained to Greg we wanted a lighting system that would allow us to make changes to stage layouts, changes in stage design, and flexibility for growth. We envisioned the possibility of expanding our stage area in the future, so we wanted to have a plan in place for that."
Before talking about the glamorous things that could be done with lighting, the first thing Greg looked at when evaluating Getwell Road's lighting system was its rigging. "We had received a proposal from a different AVL company nine months before I started talking with Greg, and nothing was mentioned about rigging safety from the site visit," said Jeremy. "Right off the bat, Greg noticed the rigging. He was quick to mention how the rigging was not industry standard and that we would have to replace the entire rigging. This told me a lot about his attention to detail and concern for safety."
Greg removed all of the old fixtures, old rigging, and ripped out all of the old electrical distribution. He then installed new rigging and hang positions, new electrical distribution and new fixtures at Getwell Road. "The only thing from the original system is a 24-channel ETC Sensor rack, and in that we replaced all but eight channels of dimming with 16 channels of relay control to power all of the new LED fixtures," said Greg. "The only thing not LED in the system are the house lights, and there is a design to convert them to LED in the future."
After laying a new foundation for the church's lighting system, Greg installed a collection of fixtures that would not only make the stage more pleasing to the eye with a flat even field of light, courtesy of a collection of Ovation Fresnels, but would also add extra colour and movement to the Getwell Road stage.
"With the new lighting system and fixtures, we have more creative potential to challenge ourselves," said Jeremy. "The new lighting has breathed new life into our stage and allowed us to use the church in more ways to touch people. We just finished a big youth event that allowed us to go 'all out' with our moving Rogue fixtures. Our FLC (Family Life Centre) is animated by our new lighting system, not just for ministries here in the church, but for outside organisations as well. We have hosted meetings, banquets, concerts, worship events, youth events, and all sorts of community events here. This lighting system benefits not only Getwell Road, but also the Greater Memphis area. I'm very excited about what has happened in that regard."
The new lighting system at Getwell consists of 10 Ovation F-165WW fresnels, seven Rogue R2 Wash moving fixtures, six COLORado 1-Quad Tour par style fixtures, nine COLORdash Batten-Quad 12 fixtures and eight COLORdash Par-Quad 18s. Getwell is using the Quad Tours to uplight white curtains that are approximately 20ft tall by 5ft wide. "A challenge with our stage is that it is not as big as we'd like it to be, at least not for the events we hold," said Jeremy. "We hit each of the two curtains with three COLOURado fixtures. The bold, rich colors of the COLORado's light create a very attractive glow off the curtain and make the stage seem larger."
Jeremy also adds depth and size to the stage by lighting scenic elements with the COLORdash Batten-Quad 12 fixtures. "The Battens are in a simple two by four frame that is roughly four-inch wide and 7.5-inch tall with six-inch natural corrugated plastic slats running horizontally," he said. "We have seven of those set pieces running along the back of our stage. The two extra Batten 12s are facing the back of the drummer for a cool 'highlight' effect, which again makes the stage look bigger. Using every possible square foot allows us to use our very shallow stage to its fullest potential."
Running his rig on a Jands Vista and an S1 controller, Jeremy relies on the movement and intense output of the Rogue R2 Washes to create added energy during youth events and contemporary services. "Our worship services are more contemporary in style compared to other churches in our denomination," he said. "If we had more traditional services, I'm sure our lighting decisions would be subtly different. With the current trends in lighting technology, there is so much more we can add to enhance our services, whether they are contemporary or traditional."
The smooth even field of white light from the Ovation fresnels has not only created better aesthetics on stage for people at the church; it's also enhanced video streaming of worship services. "We do live recording of our services, which was a primary reason to upgrade our system and fixtures," said Jeremy. "I held off on live streaming mostly due to our previous lighting issues and how the camera captured content. With the new lights, our image quality has drastically improved – no make that 'super improved.' Our initial streaming tests looked amazing.
"It's amazing how adding a new lighting system, with the help of someone who can show you how to use it, can transform your church in so many good, unexpected ways," continued Jeremy. "With help from Greg, as well as Pastor Bill Beavers, who has supported me from the beginning, and Rob Goudy, our Director of Operations, we've accomplished something that has done more than merely improve our lighting; it has also helped us expand our mission so the church can serve people in more ways."