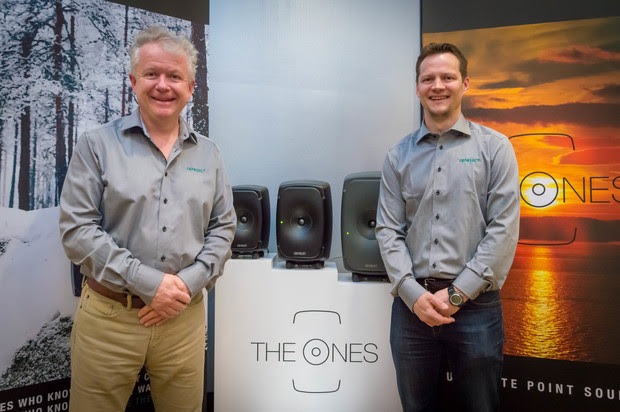 Genelec is delighted to announce two senior promotions within its marketing and R&D departments, as former International Project Manager Howard Jones becomes Marketing Director, and Jussi Väisänen, formerly Lead Acoustic Designer, is elevated to Principal Engineer.
Howard was previously tasked with developing key customer relationships and managing the world's first Genelec Experience Centre in London – now considered a global template for showcasing the Finnish monitoring company's technology – while Jussi is a long-term member of the Genelec R&D team who will now draw on his experience to provide guidance, coaching and supervision.
Based in the UK city of Cambridge, and leading the Genelec marketing team, Howard is a well-known industry figure with a wealth of experience in marketing, international distribution and sales earned over the course of three decades. From 2008 onwards, he spearheaded Genelec's UK sales effort as Director of Distributed Brands for Source Distribution. He joined Genelec in 2016, taking the title International Project Manager, a role that saw him working increasingly closely with the company's marketing department, recently helping to turn the attention of the industry towards London's Metropolis Studios for the highly successful launch of The Ones, a new ground-breaking range of compact, three way coaxial monitors.
Howard commented: "It's such a privilege to work with a company that is so innovative, and has so many strong messages to communicate. In all the many years I've worked in pro audio I can't think of a loudspeaker brand with more integrity or long-term vision than Genelec. As a marketing man, it's a dream role and I'm thrilled to have the opportunity to lead the team here."
Jussi began his professional career at Genelec when he first joined the company in 1999, originally playing a key role in the design of the AIW26 loudspeaker whilst he completed his university thesis. In the years since, he has become a pivotal member of the R&D team, most recently as Lead Acoustic Designer, serving to guide new innovations with his deep technical insight and knowledge.
He describes his new role as "working with the teams across acoustics, mechanics, electronics and software to provide guidance and supervision when working on developing new products, systems and technologies, while steering the work and making sure long-term strategies and goals are met. My heart beats for loudspeakers, and Genelec gives me a chance to do what I love. It's hard for me to imagine another place where the dedication to R&D is higher than it is here – when we launch a new product, it solves a problem that has not been solved before. It's beautiful to be a part of this family."