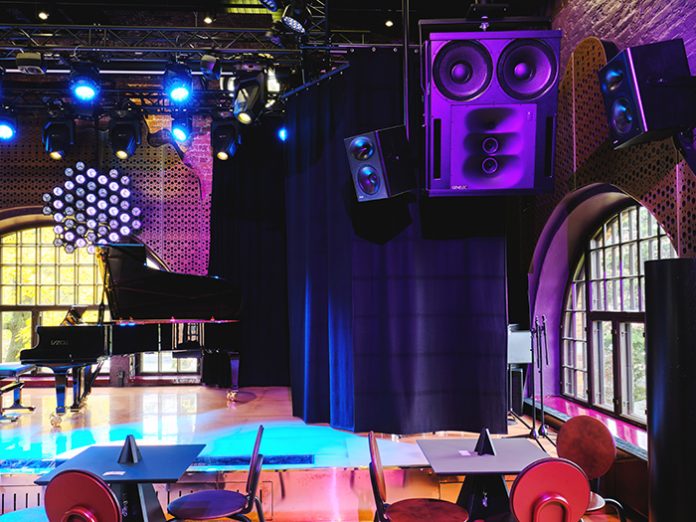 The Finnish Musicians' Union has opened a brand new – and bigger – venue in the vibrant city of Tampere, some 200km north of the Finnish capital. The result is an extraordinary live music experience based on quality programming, modern design, and state-of-the-art Genelec audio systems including the ground-breaking new 4430 Smart IP loudspeaker.
"Genelec was already a tried and tested solution with the first G Livelab project in Helsinki which has had great reviews," explained Bright's Head of Installation, Santtu Sipilä. "People really liked what we achieved in Helsinki, so it was an obvious decision to equip the Tampere club with Genelecs as well."
"We definitely wanted the new 4430s for easier cabling and added control; it's opened up a world of possibilities for us," said Santtu. "We have a fully networked system running on Dante – this includes the big loudspeakers used for the main PA – and any of the 4430s can take any signal from anywhere. This means that we can use the same loudspeakers for virtual acoustics, surround sound, background music, delays… the possibilities are endless, and it's enabled us to considerably reduce the total amount of loudspeakers required in order to achieve what we wanted. We are able to make art with loudspeakers and we are not limited in any way in terms of how we can use the system."
Tapio Ilomäki, the project manager for Akukon, said, "The versatility of systems and spaces was a key element of the design; modern venues need to be multi-purpose and they have to be able to facilitate these changes as quickly and easily as possible, for optimum functionality and quick return on investment. The use of the 4430s plays an important role at this level as well as offering extremely musical sound with very low distortion."
In addition to the 4430s, the main PA system comprises a pair of 1236 SAM studio monitors, the flagship of the Genelec range, seventeen S360s for surround and delay, a pair of 1238s as the first delay line, and finally a flown sub array of nine 7380 subwoofers. "We didn't have either the height or the space to include subs in Helsinki, so this is a welcome addition in Tampere which gives us some extra headroom in the system and helps add body and fullness to the sound," said Santtu.