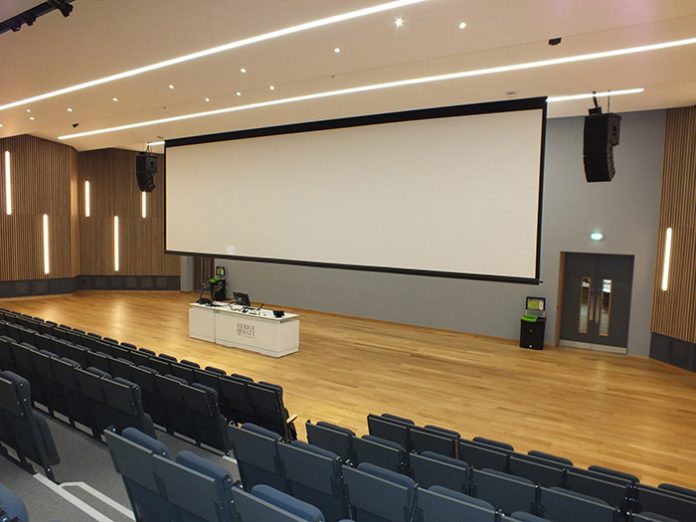 Scottish-based GAB Audio Engineers called on all of their three decades' experience when recently equipping Heriot-Watt University (HWU) with a variety of flagship solutions from the Martin Audio portfolio.
The sound requirements were part of a major refurbishment of two lecture spaces — James Watt 1 (JW1) and James Watt 2 (JW2) — which form part of the University conference centre. Discussions with Martin Audio began at the ISE Expo in Amsterdam, back in 2016.
Stated GAB Director, Jim Bryan, "Our relationship with Martin Audio started in the mid-90s when we were looking for high quality loudspeakers for our hire stock. We invested in Wavefront, then soon started to install EM series, Blackline, AQ series and most recently CDD in our church systems. It was therefore logical to turn to Martin Audio again to meet these requirements."
In fact, GAB, which was originally set up in 1984 to specialise in a range of hire and installation services, principally for Houses of Worship and Local Authorities, had been introduced to Heriot-Watt by Martin Audio Account Manager, Richard Van Nairn after they had seen the Scottish integrators referenced on the Martin Audio website.
Martin Audio's Product Support Engineer, Robin Dibble, duly met with GAB and the University AV team on site, and produced modelling of the rooms' response using Martin Audio software. "Having heard the systems previously, HWU Technical Supervisor, Neil Macintyre, was happy to place an order for the installation," confirmed Jim.
"Consequently, we specified left and right hangs of four MLA Mini, each flown below an MSX subwoofer and power-plant for JW1 and two O-Line hangs of eight elements with a ceiling mounted CSX112 sub for JW2." Power was provided by Martin Audio MA5.0Q and MA2.0 amplifiers.
This met the requirement for high quality sound reinforcement, in both spaces. JW1, the larger room, is used for conferences and various live events as well as lectures. The room has retractable tiered seating, so the ability of MLA Mini to have preset coverage and EQ settings for the changing coverage patterns between flat and tiered, allied to its exceptional sound quality and small size, made it the ideal choice, according to Jim.
"The hangs were carefully located, somewhat wider than usual, to avoid interfering with the projection lines required for the 14m screen. The hangs had a 14 degree toe-in to ensure good horizontal coverage and still provide a hard avoid area at the Lecturer Control desk."
For JW2, which is mainly speech based, O-Line was ideal, he concluded, "as the sleek modern lines blended well with the modern teaching layout of collaborative learning desks spread throughout the space."
The installation was carried out at the end of the overall refurbishment phase, as flying points were provided from the ceiling void, and cabling could be accessed from above. In each room, audio is provided from the AV systems and is largely automated via touch panel. In JW1 a digital mixing desk takes control for larger live events.
In conclusion, Jim stated, "The MLA Mini has solved the coverage problems previously experienced, particularly when the room was being used for large scale formal dinners, and now provides excellent audibility for lectures to the back of the tiered seating."
Final tuning was carried out by Robin Dibble, GAB and the HWU staff, who were said to be extremely pleased with the result.
For more about Martin Audio, please click to www.martin-audio.com.