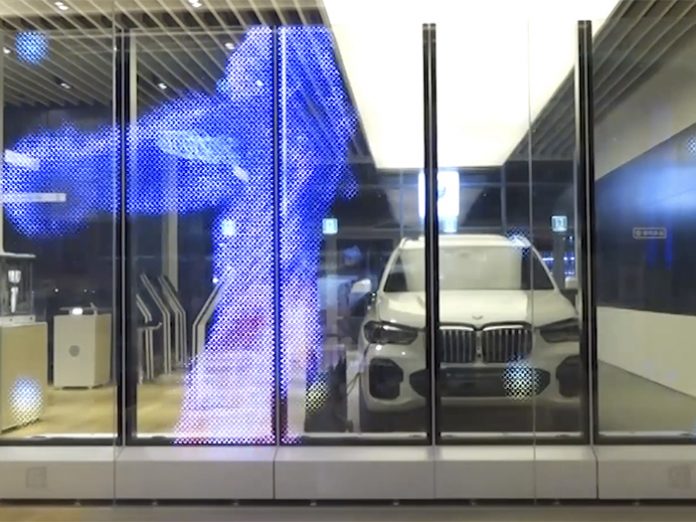 G-SMATT has announced the launch of the P20 smart LED glass panel for displaying engaging media content in a high-definition, mobile format.
Known for its innovative media glass that transforms glass facades of any type into a vast, interactive visual media canvas, G-SMATT technology has brought entire buildings to life. With the introduction of the P20, G-SMATT offers a scalable, mobile solution suitable for both interior and exterior use in a variety of formats.
The freestanding P20 units are constructed from best-in-class architectural laminated safety glass that can be used for internal partitions. Offering the best definition yet of any G-SMATT product, the 20mm pitch P20 delivers extremely high light transmittance due to its ability to drive current through transparent laser etching on FTO glass, and still maintains an impressive 99.7% transparency. With top-rated LEDs from Nichia, media content is visible at angles of up to 140 degrees, providing excellent visibility from a wide range of viewpoints.
Available with a freestanding, portable base the P20 is designed for any application requiring an engaging visual display on a smaller scale, such as retail and corporate environments, as well as visitor attractions. Units may be used singly or arranged together to form a straight wall, square corners, or box shapes. The electronics are neatly concealed in the base unit, making the P20 both mobile and self-sufficient. All that is required is access to a standard power supply. Media content for the P20, and indeed any G-SMATT product, can be driven by industry standard, off-the-shelf software for maximum versatility and integration with other media systems.
According to G-SMATT Europe's sales director, Leo McDowall, the P20 is an extremely valuable addition to the portfolio: "We've had enormous success throughout Southeast Asia with our media glass systems – partly because that's where the company is based, and partly because our products lend themselves to large-scale applications. However, in Europe, requirements are often very different, both in terms of architecture and scale. As a result, customers require higher resolution products that are suitable for smaller environments. The P20 ticks all of those boxes, offering high-impact visual display solutions in a modular, self-contained format. We are the only truly transparent LED glass display manufacturer in the world, so I'm thrilled to be bringing the P20 to market, as it makes our unique technology available to everyone."