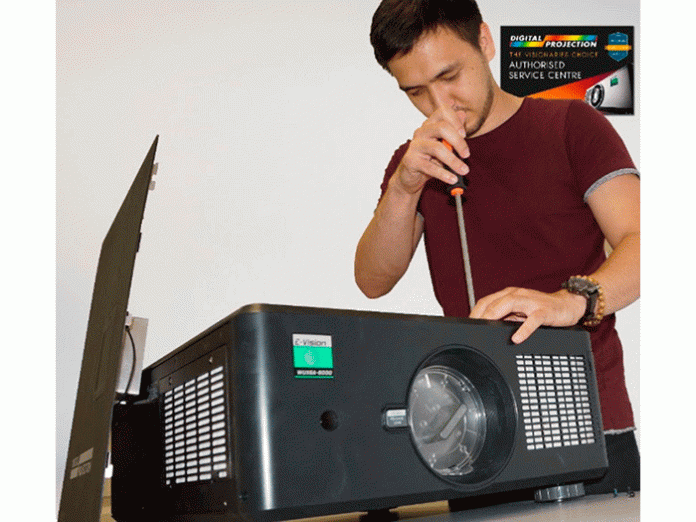 Digital Projection has announced the launch of four new service centres across the European region, as it further moves to cement its position as provider of best-in-class projection products and aftercare service to its valued and growing customer base. With a new network of Service Partners established in France, Germany, Benelux and Russia where the company's install base continues to grow exponentially, Digital Projection is honouring its 'beginning to end' commitment to customers by taking its trusted technical expertise to their door to support business needs.
The newly approved Service Partners are MC&S, based in Düsseldorf and servicing Germany; CES, based in Lier, Belgium and servicing Benelux; Paris based ATM will be servicing the French market while Kreator AV in Moscow will be catering for Russia and CIS. With the addition of these four new partners, Digital Projection strengthens its comprehensive global service network that is strategically positioned to put the company in lockstep with its customer base whilst complementing the service offering from the Manchester HQ Service Team.
The Service Partners were selected via a rigorous set of criteria, where their credentials and holistic fit with the Digital Projection ethos and approach were assessed and evaluated. Chosen specifically for their specialism in high quality service, the partners will work closely with Digital Projection's service engineers and will be managed by the Manchester HQ Service Team to guarantee consistency and excellence. To become a true extension of the Digital Projection family, the Service Partners have undergone extensive training from the HQ Service Team.
Fully up to speed on all the Digital Projection product lines sold in each respective market, the newly appointed Service Partners will provide a first line of response for customers based in each territory. The partners will have access to Digital Projection parts locally, and will follow the company's procedures to service products and diagnose and fix faults, as well as offering additional local services such as on-site maintenance and training in certain locations.
First and foremost, Service Partners are fully committed to delivering against all the quality and service guarantees that are synonymous with Digital Projection, and their proximity to the customer base stands to bring the added benefit of quicker turnaround times.
The addition of these four new service centres further enhances the service available to Digital Projection customers from its Manchester HQ Service Team, which customers are still welcome to deal with directly should they wish. Additional prospective Service Partners are undergoing the selection process as Digital Projection plans to further expand the network by the end of 2016 with the aim of being closer still to its clients.
Trevor Middlemas, Technical Operations Manager at Digital Projection commented: "I'm excited that we have been able to widen our service presence in Europe to provide a highly qualified local support network in a time zone and language our customer base expects. Through a continued training programme these centres become an extension of Digital Projection service department and deliver the high level of service and support which we currently provide from our HQ. Service and support will still be available from Manchester to all regions both in Europe and globally."