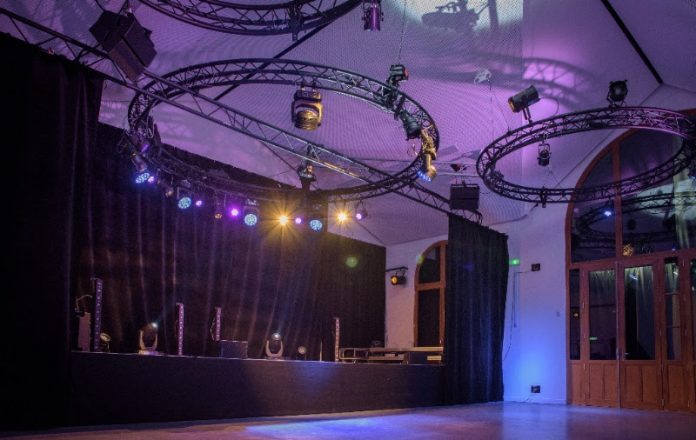 Located in the 18th arrondissement of Paris, the Hasard Ludique was born from crowd funding, and is the new hottest cultural and musical spot in the French capital. The venue benefits from APG's new Uniline Compact loudspeakers where both professionals and music lovers alike couldn't agree more on the excellent acoustic quality.
During the renovation of this old Parisian train station, French integrator and service provider D6 Bell Light used its know-how to overcome the many challenges presented by the venue and its unusual infrastructure. In order to stand out and provide acoustic performance levels similar to the very best venues in the capital, the owners needed the highest quality and acoustic performance, a challenge that APG was more than able to take on.
D6 Bell Light has completed several projects in construction and renovation in the past and with its own design department, it is able to offer customised solutions to each client and support them from the project's inception phase all the way to the recycling of old products. The Hasard Ludique technical consultant Ronan Berthomé boasts years of experience in dealing with technical AV integration for contemporary music venues. After running a comparative listening session on site between different brands, he and his team opted for the Uniline Compact, APG's revolutionary modular line array system.
D6 Bell Light sales manager Yael Laporte explains what the challenges were, "The shallow depth between the front of the stage and the back of the room (which measures less than 6-metres with an opening of 11-metres), meant that we needed a compact yet powerful audio system capable of providing an horizontal opening of at least 100° in order to ensure optimal coverage. The Uniline Compact was the only system capable of helping us reaching our sonic goals."
With only four APG UC206W loudspeakers as well as two TB215S subwoofers used at the Hasard Ludique, this new concert venue has all the coverage and power needed. New technologies are at the heart of this project, as Yael Laporte describes, "The Hasard Ludique wanted an audio system that would be as exceptional as its lighting investment, an ambitious and innovative approach for a venue of this size. To fulfil this ambition, we set up a fully digital system, from the console to the amplifiers, using Dante cards integrated in the APG DA15:4 amplifiers."
Vincent Merlet, co-founder of the Hasard Ludique and person in charge of communications and private events, enthused, "We trusted D6 Bell Light's knowledge and experience as a recognised integrator and service provider and we are delighted with the support we were given. We chose APG for the remarkable performance of its products, the brand's unique know-how and excellent value."
Yael Laporte concluded, "We work with a number of well-known brands but the Uniline Compact from APG has substantial advantages, such as its reduced size, light weight, power efficiency, horizontal and vertical coverage and of course an exceptional stereo result."