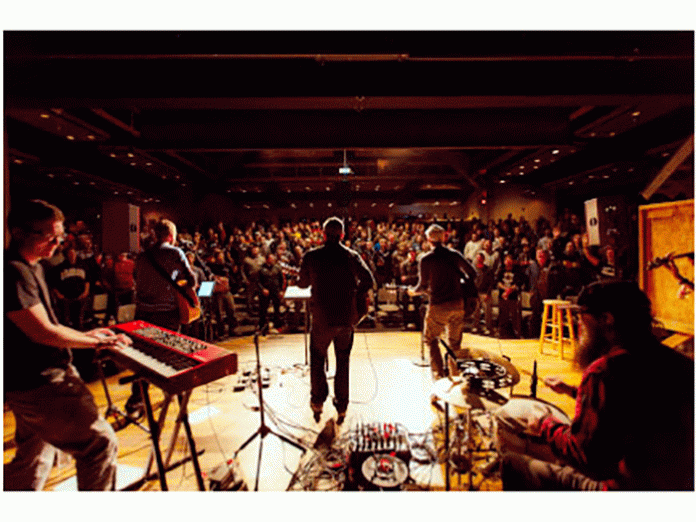 Flatirons Church, located in Boulder, Colorado, recently invested in a new Eastern Acoustic Works (EAW) Redline system to accommodate the growing needs of their church. They required a solution for the times when attendance to the popular church exceeds seating in the sanctuary – often by as many as 1,000 worshippers. By deploying Redline in the lobby, everyone in attendance has the same worship experience. It also provides them with a system to use for outside events, which are a common occurrence at Flatirons.
Audio Director of Flatrions Church, Bryce Boynton explained the following: "We were in a position where we could spend X amount of money every time we rent a system or we could just purchase Redline and solve the problem – it was a huge long term win for us. It's a very substantial system that sounds great and can easily produce 100 dB for any event. When we put it up in the lobby, it sounded every bit as good as the sanctuary PA, which is exactly what we wanted."
The new PA consists of two self-powered RL15 loudspeakers and two RL18S active subwoofers. In addition to using it as needed at the church, they also utilise the portable Redline system for retreats, smaller auditorium needs and offsite events.
Bryce stated that he and his team were looking for a powered, portable PA with the best quality for value. Having had good experiences with EAW in the past – when they introduced Redline – Bryce thought to check them out. He commented this on the matter: "I am so glad we contacted them. They are easy to set-up, sound great, are light weight – a piece of cake for anyone to use. Some manufacturers put money into bells and whistles. For a system under $10k? The more you give them to mess with the worse it can be. Redline is plug and play, which is what most users are looking for."
The RL15 is loaded with one 15-inch LF cone and a HF compression driver featuring a one-inch exit, 1.75-inch voice coil powered by 1,250 watts of fanless Class-D, PFC amplification. EAW FocusingTM sonic processing delivers exceptional impulse response while DynOTM processing maximises headroom and sound quality at a high SPL. Three simple user-defined voicing options are available without need of a computer or external processor.
The RL18S subwoofer is cardioid-ready via simple rear-panel controls, allowing end-users to achieve high levels of low-frequency control without complex processing or calculations.
Bryce notes that one of their upcoming events, A Military Ball For 1,000, is going to take place in an airline hangar. He plans on use Redline and push it to its limits.