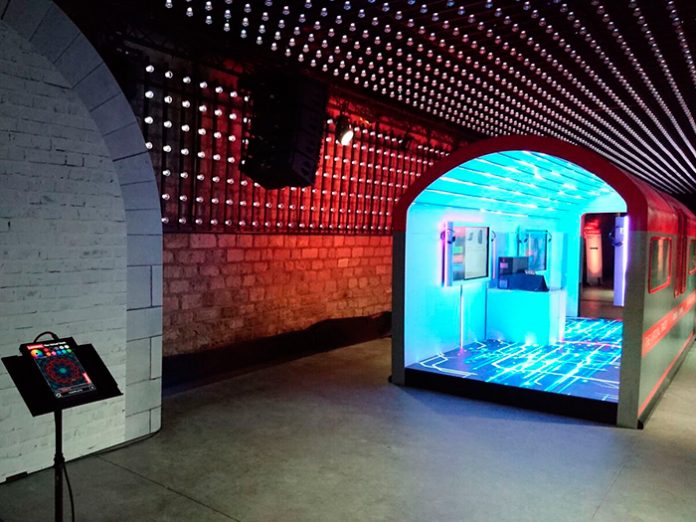 LeadDog Marketing Group, the award-winning, integrated experiential marketing agency, recently appointed event technologist FIX8Group to manage, design and deliver the visual and digital technology for a boutique experiential installation in both Paris and London on behalf of the $46bn global personal technology company Lenovo.
Aimed at a curated group of Lenovo's customers, the events attracted top architecture/engineering and technical firms to discover and experience the latest in Lenovo computer technology.
Conceived and led by LeadDog, the tech installation was built around a series of interactive digital drawing applications and a facsimile of a digitally enhanced underground train that featured an interactive LED floor, wall mounted touch screen technology and LED lit ceilings and walls.
With a brief to visually align the concept with Lenovo's messaging on interconnectivity and the business' controlled path into the future of technology, FIX8Group worked in tandem with two of Lenovo's design teams to create and deliver the content, technology and control systems, along with the fabrication design team at Millington Associates who built the physical train carriage.
"For the touchscreens inside the tube train we liaised with production and an internal designer at Lenovo and for the interactive drawing package we worked with the internal digital team at LeadDog," said production director for FIX8Group, John Montague. "All the content for the LED floor and the LED pixel tape roof in the underground train was created by FIX8Group digital animator Henry Crawfurd and programmed on site using blend and merging techniques in our Green Hippo media servers."
FIX8Group provided the management and system design for several touchscreen drawing apps, which directly conveyed the resulting images to portrait-hung 75″ wall mounted televisions. The company also designed and specified the digital control and created the dynamic digital content that continuously played across the underground train's bespoke LED floor and pixel mapped roof.
The project design demanded numerous technical elements, which had to work seamlessly together under continuous use for prolonged periods of time as Montague explained: "We needed robust tried and tested yet discrete technology that would impress a knowledgeable audience, evoking a futuristic and forward looking experience. We were working with multiple channel Bluetooth headset communications that needed to relate to the content on specific screens in a small space, which was challenging. We also had to seamlessly mix the Pixel tape mapping with the LED floor and content from the 55″ touchscreens, which in itself involved a HTML based interactive file and a host of other complex control systems."
The multi-skilled FIX8Group also installed and managed all the wifi networks across the various venues for the guests and production along with all power and distribution for the entire event.