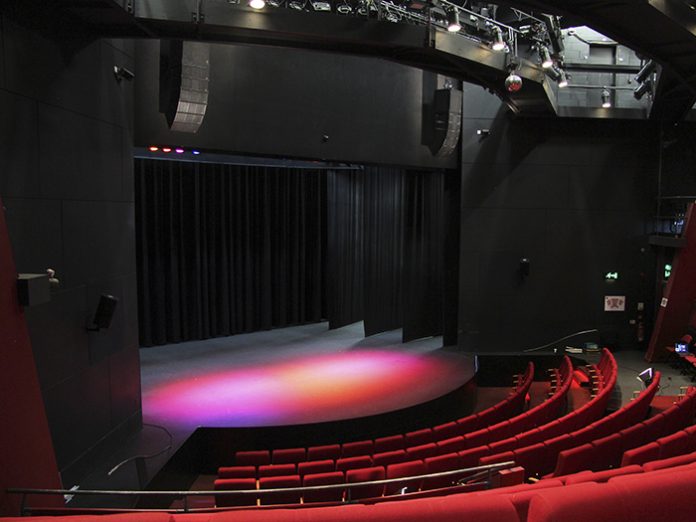 The first UK installation of Adamson Systems IS7 line array loudspeaker systems has been completed at Howden Park Centre in Livingston by Adamson Certified re-seller Live Systems Ltd.
West Lothian's premier centre for arts performances and events Howden Park Centre was transformed in 2009 by internationally acclaimed architects Nicoll Russell Studios. The Centre was awarded the accolade of Building of the Year from the Edinburgh Architectural Association Howden Park is a stunning building with a 300 seat auditorium at its heart.
Stephen Oakes and Cliff Carrie who form the core technical team at Howden Park commented: "Our existing sound system was failing and we managed to secure finance through West Lothian Leisure for a replacement. We demoed three major loudspeaker brands including Adamson, unanimously we decided that we liked Adamson the best! The system was clean, controlled and dynamic, it delivered constant sonic impact from low levels of sound all the way to the loudest level we can effectively operate at. Adamson made us smile, we kept wanting to hear different sounds through it and we wanted to keep it. Over the last couple of months, the system has been used for panto, theatre and bands and it has performed wonderfully with many positive comments from visiting engineers and productions."
Live Systems utilised Adamson's Blueprint audiovisual software to design a system perfectly tailored to meet the requirements of Howden Park's varied programme of theatre, music and conferences. The resulting solution comprised of left and right hangs of six x IS7 line array loudspeakers together with one x IS118 subwoofer complemented by one x IS119 sub per side built into the proscenium walls with one x P8 per side for front fills. All loudspeakers are powered with Lab Gruppen D-Series installation amplifiers running Lake Processing. The Adamson's IS-Series also packs tour-grade technology into sleek, architecturally friendly packages with robust but unobtrusive rigging solutions perfect for Howden Park.
Derek Blair, Director of Adamson's UK Distributor The Warehouse commented: "The IS-Series offers an astonishingly smooth and accurate frequency response so is perfect for the diverse needs of the Howden Park Centre. This compact cabinet offers so much headroom and precise reproduction. You can hear every minute detail when mixing on this system, we're delighted that they chose Adamson over other brands."
Steve Robb, Managing Director of Live Systems Ltd commented: "The brief from the client specified a number of criteria, such as suitability for both theatre, events and music, exceptional clarity while retaining a warm sound, and even coverage throughout the auditorium. From our previous experience with Adamson and the IS-Series products, we knew those criteria would be perfectly met and exceeded. There is no doubt that Adamson is the global leader in terms of coverage and audio quality and value!"