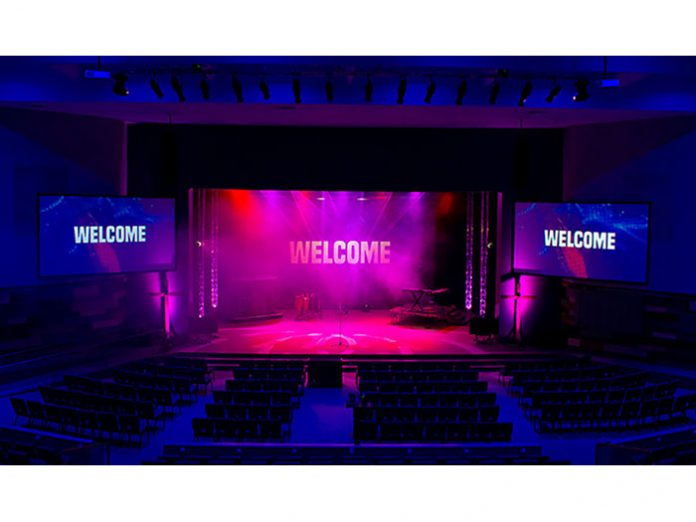 An extensive package of ADJ lighting fixtures has been installed in the new contemporary worship centre of First Baptist Church in Stockton, California. Amongst other fixtures, Vizi CMY300s serve as the main moving head luminaires, creating beam effects and GOBO projections on stage, while COB Cannon Washes cover both stage colour and house lighting duties.
When the opportunity arose for the thriving First Baptist Church in Stockton to acquire a neighbouring building they embraced it to create a dedicated space for their growing contemporary worship services. After diligent research, the church's leadership worked with local supplier Nor Cal Pro Audio to specify a modern lighting system that would allow maximum flexibility for the space, allowing it to be used both for services and as a community centre.
Headed up by Jorge González, Nor Cal Pro Audio specialises in providing audio and lighting installation services to a wide variety of establishments – but especially churches – throughout the North California area. Having started out as a sound tech, Jorge spent 11 years working at a well-known high street musical equipment retailer. This led to an increasing number of requests for him to carry out local equipment installation projects in his spare time. Eventually, he became so in-demand as an installer that he decided to make it his full-time career and founded Nor Cal Pro Audio in 2013.
The company quickly grew and now works with a large number of churches across the area, covering everything from smaller equipment servicing and repair jobs to complete installations such as the First Baptist Of Stockton project. Jorge puts this success primarily down to his focus on excellent customer service. "When it comes to serving churches," he explained, "our business model is to really look after our customers. For example, if a church's console goes down, we'll lend them ours while it is being fixed or a new one is delivered, so that it doesn't impact their meetings. We'll also often be there for big services at churches where we've installed all the gear, to make sure everything is working properly, and they are making full use of the equipment they have. I always feel that I am blessed when I bless these churches by helping them out."
Having acquired the building next door to use for their modern worship services, the First Baptist Church of Stockton leadership were clear that their new facility would make the most of the latest technology. The senior pastors, together with Head Media Tech, Saul Bello, headed to the WFX trade show to find out what was available on the market. Following this fact-finding trip, they worked with Jorge who helped them whittle down their 'dream wish list' into a specification that would allow them to achieve their vision on the available budget.
"To work out exactly the right moving head fixture for the job," explained Jorge, "we organised a shoot-out at the church's new building. I arranged for a number of different lighting manufacturers to bring along their products, and Saul and the pastors decided that the ADJ Vizi CMY300 was the option they wanted to go for. They particularly liked the smooth colour mixing it offers – it really wowed them! The LED source was another important factor, they were very clear that they wanted all LED lighting, to save money on power and to avoid having to replace blown lamps."
The Vizi CMY300 is a feature-rich hybrid moving head luminaire that can be used interchangeably as a beam, spot or wash. Its specially-designed 300W cool white LED engine allows it to generate a massive output that is suitable for use in large venues and on big stages. Meanwhile its extensive collection of beam shaping tools – including CMY colour mixing, two GOBO wheels and two rotating prisms, as well as motorised zoom, focus and iris – provides lighting designers with maximum creative potential.
For the First Baptist Church of Stockton project, Jorge and his team installed six of the fixtures on an upstage truss. This allows them to project GOBO patterns down onto the stage, create mid-air beam effects above it and also generate washes of colour anywhere they are required. In addition, two further Vizi CMY300s were installed on a front of house truss, which can serve as spotlights. These fixtures are also fitted with custom GOBOs of the church's logo, which can be projected onto blank walls at the sides of the auditorium.
To add static colour washing to the stage, seven of ADJ's popular COB Cannon Wash fixtures are mounted to the upstage truss between each of the moving heads. These potent units harness the power of a 150-Watt RGBA COB (Chip On Board) LED to generate smooth colour mixing and a broad even wash with no hot spots or colour shadows. With an extremely wide native beam angle of 80°, the units are supplied with easy to fit lenses that can be used to reduce the beam angle to 40° or 50° if required. Jorge opted for the 40° lens option for the First Baptist Church of Stockton stage, to create concentrated splashes of colour.
In addition, eight of the COB Cannon Wash DW versions of the fixture, which feature variable colour temperature white LED sources – are used to provide in-fill washing for the stage. Six units are hung directly above to provide downlight, and the remaining two fixtures are mounted at either side of the stage to provide side-fill. These fixtures are also fitted with the 40° lens, while Jorge opted to use the optional Barn Door accessory on the side units to prevent stage light straying into the eyes of the congregation.
As well as being ideal for stage washing, the COB Cannon Wash is also an extremely popular fixture to use for house lighting in modern churches. With its wide beam angle and powerful output, it is capable of generating a warm white wash that is perfect for when the house lights are 'up'. However, it's full-colour mixing ability then provides creative lighting designers with the option of bringing the colour palette used on stage out into the auditorium to fully immerse worshippers during a service.
"When we took out the old fluorescent lights that had been in the building before, we realised that the COB Cannon Washes fit like a glove into the old recessed fittings that were already in the roof," explained Jorge. "It made the install very easy, we just took out the old lights, dropped in the COB Cannons and strapped them down so they couldn't get knocked out of place. The result is very impressive and was surprisingly affordable for the church. I researched what an electrician would charge to supply and fit a regular dimmable house light, and it wasn't actually that much less than we charged for the COB Cannons. And, of course, they wouldn't have the RGBA colour mixing or DMX control."
A total of 47 COB Cannon Wash units are installed across the ceiling to provide house lighting for the large space. To help with running a DMX signal to all of them, Jorge utilised four of ADJ's D6 Branch signal splitter/amplifiers. Each of these compact and sturdy units takes an incoming DMX signal, boosts it, and outputs it via six output (+ one thru) 3-pin sockets.
This extensive lighting installation is rounded out by eight of ADJ's Dotz Par tri-colour COB wash fixtures. Two of these illuminate the drummer, housed in a sound-proof booth at the rear of the stage, while the remaining units serve as truss warmers. The large six-legged, floor-standing truss structure is constructed from 180' of Global Truss America F34 truss and not only supports all of the on-stage lighting fixtures but also serves as an integral part of the stage set thanks to the vibrant coloured light provided by the Dotz Pars.
The completed project provides the church with a state-of-the-art worship facility that combines a flexible stage rig with a house lighting system which serves the necessary practical function as well as allowing the atmospheric colours from the stage to be extended throughout the whole space. Jorge reported that everything went very smoothly throughout the install and the church leadership were extremely pleased with the end result. So it seems that ADJ's professional lighting products together with Nor Cal Pro Audio's emphasis on great customer service proved to be a winning combination.