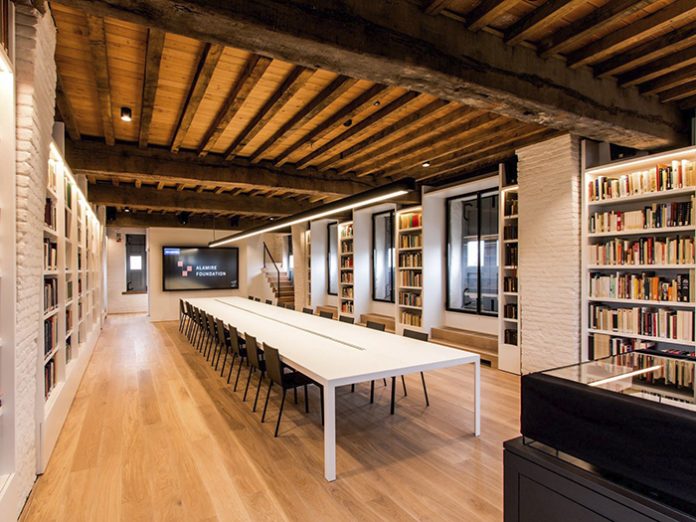 The installation arm of TiMax Benelux distributors, FACE Projects, have designed and implemented an advanced TiMax immersive audio research resource for the new Auralisation Sound Lab at Alamire Foundation's newly created Library of Voices. As an international study centre, the Alamire Foundation has set itself the goal of stimulating, coordinating and conducting scientific and practical research on music and musical life in the Low Countries from the early Middle Ages until 1800. The Library of Voices complements the House of Polyphony already in existence.
Steven Kemland from FACE Projects explained: "In the Auralisation Sound Lab, on the first floor, where polyphonic music is studied, we have installed a self-assembled surround system with no less than 20 speakers."
The first-floor Auralisation Lab is strategically equipped for the diverse challenges of multichannel spatial audio manipulation and reproduction of polyphonic multi-voice music. A TiMax SoundHub-S64 object-based dynamic delay-matrix feeds a discreet distributed twenty-channel 3D surround system of compact Martin audio CDD speakers driven by Powersoft Ottocanali amplifiers.
The state-of-the-art installation allows researchers and visitors to play old polyphonic compositions and, if desired, pick out certain pitches or voices to be heard in a unique and advanced spatially immersive environment.
Using the advanced TiMax PanSpace spatial rendering tools, individual or grouped voices can be readily isolated, highlighted and enhanced.  Due to the delay-matrix TiMax spatialisation, multiple source objects can be balanced in the 3D space without the masking shortcomings and compromises of conventional channel-based mixing.
FACE Projects Manager, who designed and implemented the systems in conjunction with Project Engineer Stijn Vermeiren commented: 'In the Auralisation Sound Lab where polyphonic music is studied, we have created a surround system where visitors can play and interact with old polyphonic compositions. We wrote some special operating software to make this practically possible because the music contains up to 64 voices. At the same time, we have ensured that even for non-technically skilled people the installation is very easy to operate via a tablet."