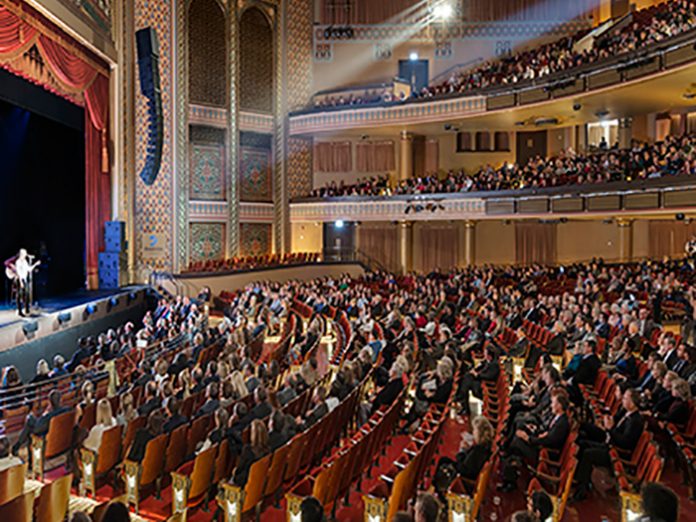 Our design and programming strategy for renovating the Altria Theater included crafting a variety of experiences for patrons," explained Bruce Herrmann, AIA, Director with Wilson Butler Architects (WBA). "And this means more than just adding seats."
WBA began the master planning project in 2011, a process that encompassed vision, viability and technology. It was WBA's second project in Richmond, Virginia, both part of Richmond CenterStage, now called the Dominion Arts Center. Other team members included Jaffe Holden as acoustical and AV consultants and Theatre Projects Consultants. Through careful planning and execution, the Altria Theater project was completed in three years without losing any performance seasons.
Appealing Distractions
In the renovation, new lounges, lobbies, concession bars and other amenities were added, all intended to create "appealing distractions" that encourage early arrivals and the potential for lingering after the show – (in other words, "improving their experience, extending their stay and expanding their spend".) Bruce said WBA sees more and more performing arts facilities embracing this philosophy, for both financial and logistical reasons.
"When a show's over, patrons leaving large performance venues en masse are often trapped in parking garages for 45 minutes. Now, the Altria's patrons can choose to share a drink in one of the new lounges, enjoy a dessert at the café or catch an interesting event in the ballroom."
Rich History
The building's enormous size afforded the opportunity for these reimagined spaces; its rich history provided inspiration. Originally opened in 1927 as a Shriners convention hall called 'The Mosque', it featured seating for 4,600 in a Moroccan styled auditorium, plus 42 hotel rooms, swimming pool, 3-lane bowling alley and an ornate, Egyptian-décor ballroom in the basement.
The City of Richmond purchased the building in 1940; it eventually became one of Virginia's most popular theatres, hosting plays, community programs, graduations and concerts, including by notables such as Duke Ellington and Elvis. After a restoration project in 1994-95, the name was changed to "Landmark Theatre". In 2014 a $10 million donation from the Altria Group secured its current name: the Altria Theatre.
Magical Escape
In this renovation, the hotel rooms and other unused spaces were converted into five lounges, seven bars, an additional café and related amenities for patrons. "Most theatres never have enough concessions (or restrooms)," noted Bruce.
New and restored finishes and furnishing throughout the Altria provide unique experiences that invite patrons to "escape into the magic" and return often. The goal was to reinforce the loyalty of long-time patrons, attract new patrons, and pique everyone's interest to see another show. Additional spaces have been provided for other event rentals as well. The results have been successful. In the first year of operation, food and beverage sales increased by $1.50 per head; ballroom rental revenue was projected to hit $750K the first 12 months in operation.
Fill-in Solution
Inside the Altria's performance space, a Wenger STRATA orchestra pit filler provides flexibility for production staff to either extend the stage or – primarily – to add more audience seating.
This pit filler was installed in 2009 as part of $9 million initial renovation project. Also included were a new loading dock, dressing rooms, wardrobe areas and other back-of-house upgrades that enabled the Altria to start hosting larger touring Broadway productions like "Wicked" and "Lion King".
"Our previous handmade pit filler had been used for years and we recognised we needed a modular, engineered system," explained Steve Sweet, Production Manager responsible for all backstage operations at two venues – the Altria Theatre and Carpenter Theatre at the Dominion Arts Centre.
The rest of the Altria's infrastructure updates – including new HVAC, electrical, roof, lighting and interior finishes – would come in the subsequent renovations led by WBA and the project team.
Go-To Company
"We selected the STRATA from Wenger; improved safety and ease of use were two key factors," noted Steve, adding that he considers Wenger "the go-to company for pit fillers and other platforms."
For non-Broadway productions at the Altria, the pit filler enables the addition of up to 64 seats on the orchestra pit. During a typical season, Sweet says this pit filler is probably reconfigured five to seven times.
While they have the STRATA components and know-how to also use it as a stage extension, Steve said very few shows call for that. Lighting this extension area can also be problematic without hanging a truss. He recalled only extending the stage three times, twice for sanctioned wrestling matches.
According to Steve, the STRATA is easy to use, with modular components that are labeled well. The operations division handles this work, not stagehands, and installation or removal takes four hours for a four-person crew.