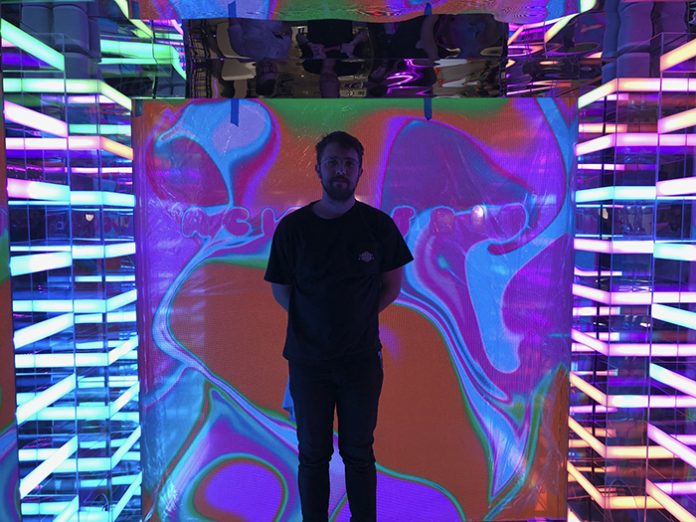 A growing Atlanta-based firm leveraged cutting-edge AV technology, motion design and more to draw visitors into immersive experiences
While AVL systems have always played a role in trade show design, there is no question that exhibitors are going bigger and bolder in recent years. Applied effectively, a dynamic and creative booth design that stirs the attendee's imagination is proven to increase organic foot traffic – and the technology to make it happen is developing at a rapid pace.
With such technology available, booth design has become a growing business opportunity for experience design firms that specialize in the visual and auditory.
For experience design firms such as MEPTIK, the possibilities are enhanced through motion design and interactive applications. The Atlanta-based firm recently managed two trade show design projects at recent Sephora events that took creative design and audience engagement to new heights.
"The Sephora events were very different – one was an internal event for store managers to see new products from suppliers, and the other was a public-facing event that brought select brands together," said Nick Rivero, owner, MEPTIK. "This required a different approach to each design, though we utilized common technologies and techniques for both projects."
MEPTIK used Notch, a real-time visual creation tool for artists and producers that specialize in live events, interactive installations, mixed reality video production, and virtual reality. Much of Notch's power comes from its real-time rendering capability for live environments.
"Notch gives us way to create high-quality motion design elements without any manual rendering requirements," said Sarah Linebaugh, creative director, MEPTIK.
"It provides us with a real-time motion design tool where we can preview our work immediately, add interactive elements such as touch, and make changes and iterations on the fly during events. We're building visually engaging pieces with a very clean and quick workflow, and drive interactions for our clients."
The client in these two examples is Drunk Elephant, a supplier of skin care products that counts Sephora among its global retail network. The managerial event, which took place at the Cosmopolitan in Las Vegas this fall, required a comprehensive experience design strategy that went beyond AV to actual set pieces. The entire booth design was based on the popular 1960s television show "I Dream of Jeannie," with MEPTIK handling all fabrication.
MEPTIK also built interactive elements into the fabrication process, which engaged visitors once they were drawn into the booth by the general presentation.
"We designed and built a large genie bottle that borrowed the same patterns as the couch and wall decorations, and added three 50-inch monitors: two inside the booth and one on the exterior, all driven by Notch," said Nick, emphasizing that they put their own twist on the designs to differentiate it from the TV show set while retaining its spirit. "We created a character rig and assembled that inside Notch before the show with all of lighting, audio recognition and facial tracking elements we needed to drive interactions."
The real-time rendering capabilities of Notch brought the genie to life on the stand. The facial tracking elements triggered the genie to call out and wave to people as they walked by. Standing in front of the genie would induce side-to-side head motions; upon saying hello, the genie would say hello back and ask the visitor to make a wish via a game.
The gaming element included interactive touchscreens.
Visitors could choose the type of skin care he or she needed, and the genie would recommend a product combination in response. The audio response – typically, "Your wish is my command," – would be followed with a puff of smoke and real-time graphics, also created by MEPTIK, that correlated with the product selection.
"The feel was similar to the old Zoltar game, which presented a 3D figure in the form of a genie that would tell the player his or her fortune," said Sarah. "Ultimately, we would not have been able to execute this project without real-time rendering, as the genie would not have been able to track faces or respond to interactions."
The onsite architecture leveraged three computer systems, each of which ran one Notch instance to drive the genie. Each Notch instance also delivered audio from the computer to soundbars that the MEPTIK team built into frames around the genie.
"It was fun to watch the reactions of visitors – some were taken aback, yet intrigued enough to come check it out," said Nick. "There's no question the project was a success from an engagement perspective."
The design for public-facing event, which took place in Los Angeles over the summer, also took on a 1960s feel per the customer's request. For this event, the interactive elements were almost exclusively visual and touchscreen-driven.
The project, called "Acid Trip" due some very psychedelic visual elements, was evolved from a design concept from the previous year.
"We refined the concept and added some new flares and visual pieces to the mix," said Nick. "The core visuals were around paint swirls that would drip down as a visitor touched the wall and moved his or her fingers around the screen. It would create a paint mixing look that would swirl around the visitor's hands."
The acid trip feel was intensified by a kaleidoscope look that would create patterns of blooming flowers in response to touch. The 8×8 screen was encased in shelving lined with mappable pixel tape, adding another visual element to the experience.
"We were able to map every pixel separately like a video screen, except that it's flexible and bendable," said Sarah. "That allows us to bend it into the shapes we needed on the shelving, which resulted in a very different dynamic than if it was just a standard video screen."
As Nick explained it, visitors would step onto the booth and immediately recognize the screen. Upon touching the screen, the imagery would move off of the high-res wall and ripple out through the shelves.
"That way, someone could touch the wall with two hands and get two reactions," said Sarah. "Or, three or four people could tough with both hands and get a more intense ripple in response. It was a very environmental piece with extensive multi-touch response."
"It was a much smaller booth – about 8-wide by 6-deep – so with so much packed into a tight space we needed to make sure it stood out," added Nick. "We used a very high-res, 1.9mm LED wall, and we turned it into a fun, interactive touchscreen."
The Notch workflow parsed data from Light Detection and Ranging (LiDAR) technology, which uses active sensors to supply illumination sources. This is just one way that the technology within Notch allows creative teams like those at MEPTIK to both design and playout elaborate projects in real-time.