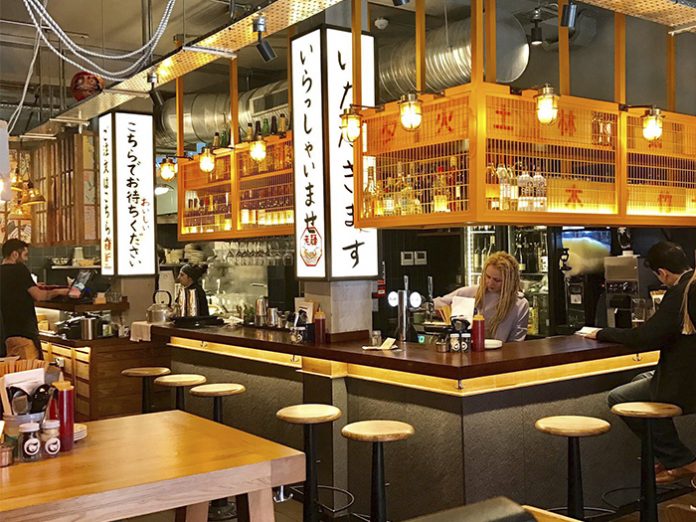 Integrator Excite AV installs background audio systems at three new London sites at St Christopher's Place in Marylebone, Old Street in Shoreditch, and Bone Daddies' original Peter Street restaurant in Soho.
The Bone Daddies group is the creation of chef Ross Shonan who wanted a home from which to share his passion for Japanese food and culture. All deliver a distinctly different experience but share the common denominator of exceptional food served to a soundtrack of old school rock. The latter aspect of the Bone Daddies experience is something that Ross takes very seriously and so the audio provision across the group has been carefully addressed with the opening of each new site.
Excite undertook site surveys at each and having produced plans, consulted with Audiologic over elements of the design.They have used combinations of Ecler speakers including Arquis 108, eCurve 104 and Audio SB110 subs. Selected for their reliability, excellent sound quality and stylish aesthetic, the Ecler cabinets strike the balance between performance and architectural appeal and meet the varied requirements of Bone Daddies' unique spaces. The installations have been completed with Ecler's HMA60 AV Integration Digital Mixing Amplifier, Cloud CX 263 3-zone mixer and DBX-1215 graphic equalizer.
Gareth Thomas, Senior Audio Engineer at Excite AV is happy with the outcomes. He said: "Each of the sites had its own peculiarities – and they all look fantastic – but we were able to place the speakers discreetly without compromising the coverage. The Background rock music is very much a part of the Bone Daddies experience and the Ecler products deliver real quality at a very competitive price."
Paul Simpson, Business Development Manager at Audiologic added: "These installations are a useful illustration of just how effectively Ecler's range can be deployed. Because music is such an integral part of the Bone Daddies atmosphere, it was essential to supply something that could deliver the required clarity and punch without being visually overbearing. When you add the fact that Bone Daddies run multiple sites, all of which need to meet the same exacting standards of audio, it's clear that cost is also an important consideration."