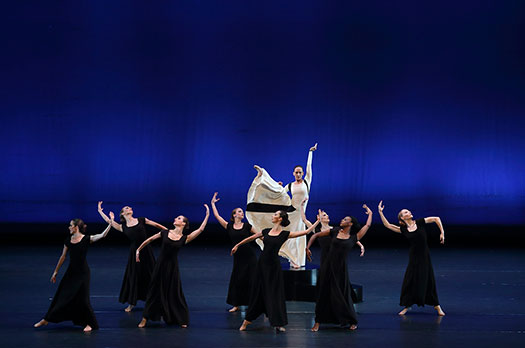 American dancer, Martha Graham, reinvented the art of modern dance, and her influence can be seen throughout all dance forms. Her troupe, the Martha Graham Dance Company, recently toured China, giving audiences new insight into 20th-century American culture. For performances at the Shanghai Grand Theatre (SGT), Lighting Designer, Nick Hung added a new dimension to Graham's classics by using numerous Source Four LED fixtures controlled by a Gio lighting control system. ETC's Chinese dealer, Hangzhou YiDaShi Lighting Equipment Co., also played a significant role in the event, by providing technical support for the show.
The programme at SGT, Three Masters of 20th Century Art, featured several of Graham's most prominent dances, including Chronicle, Deep Song, The Rite of Spring and Lamentation Variation. She created the pieces as a symbol of opposition to fascism and war. They blend three elements – lighting, music and dance – in a nod to artistic masters Pablo Picasso, Igor Stravinsky, and Graham herself. "The cold, dark, greyish colour in the beginning, the contradicting transitions in the vigorous, strong music, and the struggle within the dance itself, connect to each other, reflecting the rebirth of all three artists at the end," said Nick.
Recreating Graham's classic pieces presented a unique challenge, since most of them were produced in the 1920s and 1930s when only conventional lights were available. Nick's biggest task was adapting SGT's LED technology to fit the dances. "The technology is so different from the 30's, the 80's, and now with all the LEDs," he said. "Our goal was to duplicate the setting, to make the pieces just as glorious as they were at their first staging."
The efficiency of the Source Four LED fixtures meant that Nick needed fewer units to light the stage. And the colour that they can achieve meant that Nick could create natural light that duplicates the look of older conventional fixtures. "The colour temperature of the Source Four LED emulates a natural sunrise and sunset, allowing me to achieve our goal," he explained. "I really think ETC is doing a great job matching their LED colours to the gels of different manufacturers, with the added feature of smooth colour transitions."
Nick used many Source Four LED Lustr+ fixtures for sidelighting: "Sidelight plays a very important role in Graham's pieces, and ETC LEDs definitely met that requirement." He also employed Source Four LED CYC lights, which he thinks are one of the most impressive products from ETC: "When I designed the lighting for the Martha Graham Dance Company, the CYC was a must have on my list."
Nick was relieved that the SGT has two Gio desks. They provided a connection to the Martha Graham studios in New York, which rely on another Eos family console, Ion, to program most shows. "The consoles simplified my work quite a bit, due to the convenience of transferring show files, and the system's compatibility with ETC LEDs," concluded Nick.