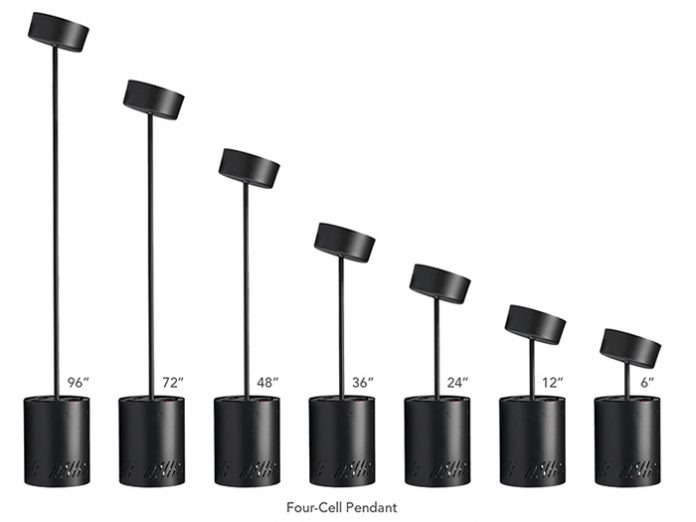 The award-winning ArcLamp LED solution from ETC gets an upgrade with the addition of a new Flicker variant as well as new driver options. Ideal for use in themed environments, the specialized Flicker lamp creates a 2700 K Fade to Warm effect by flickering randomly to imitate candlelight. Flicker lamps can also be used at constant brightness by changing the DMX value on its single control channel.
New ArcLamp driver form factors are now available, including wall mount and rack mount options for the 350 and 700 versions. See the list below for an overview of the updated ArcLamp driver range.
• 150 size: supports 25 ArcLamps, available in wall mount only
• 350 size: supports 60 ArcLamps, available in both wall mount and rack mount
• 700 size: supports 120 ArcLamps, available in both wall mount and rack mount
Along with the ArcLamp updates, ETC has added the ArcSystem Pro Four-Cell Pendant to its family of architectural LED luminaires. With this solution, the line now features both Four-Cell Round and Pendant options, depending on a facility's mounting needs.
The popular Four-Cell Round allows your choice of hanging hardware, such as a clamp, threaded rod or aircraft cable to be secured to the fixture's captive hanging point. The Pendant option includes a traditional stem kit with canopy, complete with internal wiring to provide a clean finish.
Both Four-Cell Pendant and Round are available in black, white, and custom colour finishes, with a clean, round form that looks classic in any venue. The Pendant offers stem lengths ranging from 6 to 96 inches, with custom lengths available.