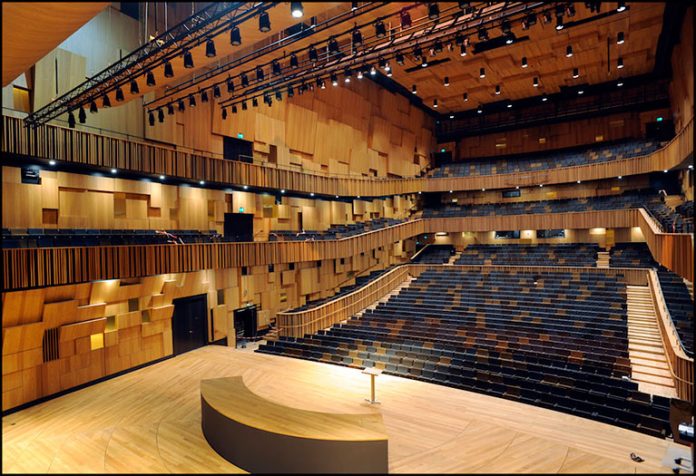 Atendi (previously Bico Proffesionel) has supplied a full ETC Sensor3 power control system to the new build Malmö Live venue in Sweden.
In addition to the system, which features triple-function dim/relay/constant current ThruPower modules, Atendi has also supplied 100 ETC Selador Desire D40 Studio Tungsten LED fixtures to be fitted in the concert hall. The fixtures are intended to replace the halogen lights with dimmers originally specified in the tender.
The 100 LED fixtures are located above the orchestra stage in the main 1,600 seat hall, providing bright yet low energy white light – they were able to achieve some 2,000 lux output across the stage despite total power consumption being just 3kW. An ETC Unison Paradigm system means that the house and worklight system, along with rehearsal lights, would be fully integrated, so that all the fixtures can be operated both from the lighting control consoles and the existing Creston audiovisual control panels.
Consultant Søren Nylin said: "Originally the system design was 80% dimmers and 20% non-dim circuits. By changing to the ThruPower system, we could skip all the non-dim circuits, saving on dimmer racks, processors and modules along with all the cable and power installation. This kept the system within the budget, and made it even more future proof – it gave us a win-win situation."
The concert hall, plus the smaller flexible venue space, known as The Cube, are both controlled using a complete ACN network infrastructure, including ETC Concert PC software, which will be used to administer the settings for ThruPower, any of the 24 DMX/RDM Gateways, and the RDM-enabled fixtures. This is paired with a wireless DMX system, consisting of 30 receivers and transmitters, from a third party. Using the ACN protocol means it is easy to unplug any piece of kit and connect it anywhere else, while still keeping track of it.
Michael Derving, Malmö Live's Building and Logistics Manager, said: "We are pleased that it was possible to change the design to a ThruPower system, and we feel that we have a fully flexible system, ready for the challenges we will face in the future. The combined wireless-DMX and wired ACN DMX/RDM Gateway control design makes it easy to adapt to any situations in the venue."
The Malmö Live complex, which also encompasses a five star hotel, a conference centre, two restaurants and a bar, is fast becoming a cultural landmark in the city. As the new home for the Malmö Symphony Orchestra, and with a series of events every Saturday especially for younger visitors, the venue has received plaudits from visitors and technicians alike despite having only been open a few months.