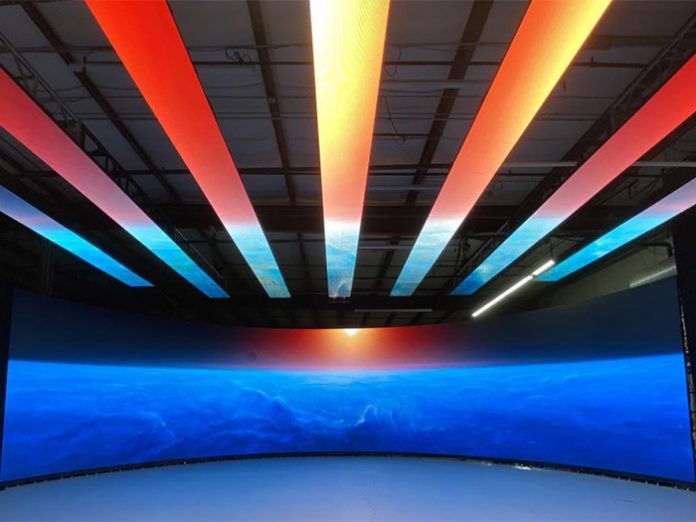 Essay Video's new virtual studio located in Norwalk, Connecticut is equipped with the latest in LED technology, including Brompton Technology 4K Tessera SX40 LED processors to realise customer's creative projects and create complex, interactive and mixed reality presentations.
"With the global pandemic, we had clients who had to pivot from live events and turn to virtual solutions," explained Essay Video Founder and CEO, Greg Fellows. "Our newly built virtual studio gives them a safe and healthy environment to make their creative projects a reality. We have multiple offices for privacy and social distancing, and we've partnered with HBO and Intel over the last six months to fine tune and perfect our virtual meetings. Whilst it's not possible to hold a live show at the moment, clients can come and make the most of our virtual facility's advanced technology, delivering the closest possible experience to a live event."
Though Essay's new virtual studio has only been running just over two weeks, its facilities have already attracted a number of high-calibre projects, including this year's prestigious 13th annual Supima Cotton Design Competition, which will take place in September to align with New York Fashion Week. Following that, Supima will once again return to the full-service production company's virtual space to deliver another fashion show, which will be simulcast during Paris Fashion Week.
"We are very excited about both projects and can't wait to see them going live in our Norwalk studio," said Greg. "Our studio features some of the best-quality LED equipment, so we have no doubt that the virtual presentation, which will be broadcasted via Supima's Instagram Live and will use a mix of pre-recorded and live video content, will be a success."
The screens installed are high-performance, broadcast-grade ROE Black Pearl 2.8. The LED wall measures 52ft by 11.5ft ¾ inches, and the ceiling comprises seven, 20m long by half-metre wide LED strips.
"The content that is being shown is very diverse; anything from corporate presentations to runway backgrounds, as well as simple and complex virtual backdrops," continued Greg. "We are using Brompton's Tessera S4 LED processor for the ceiling and two Tessera SX40s for the wall, connected with fibre to the Tessera XD 10G data distribution unit. We chose Brompton processing for its superior colour depth and ability to make fine adjustments to the LED screens in front of the camera."
More and more companies choose virtual platforms to host their events, and Essay's virtual studio is able to deliver both virtual and hybrid events with services including camera systems, operators, and staff. The team also offers remote camera packages that can be shipped to live-stream participants.
Speaking about the response the team has received so far to their new virtual space Greg can't help but smile. "The feedback to our virtual studio has been tremendous!" he concluded. "Everyone who has seen it has been excited about the endless creative possibilities it offers. Supima has been our biggest project so far and we have more investors in the pipeline also keen to use our studio for their projects."
In closing, Greg said: "In the post COVID-19 world, we believe virtual meetings will also be an integral part of getting industry leaders together when they don't wish to travel. We chose Brompton because they always provide the highest quality products and fast reliable service for LED technology and LED processing needs."