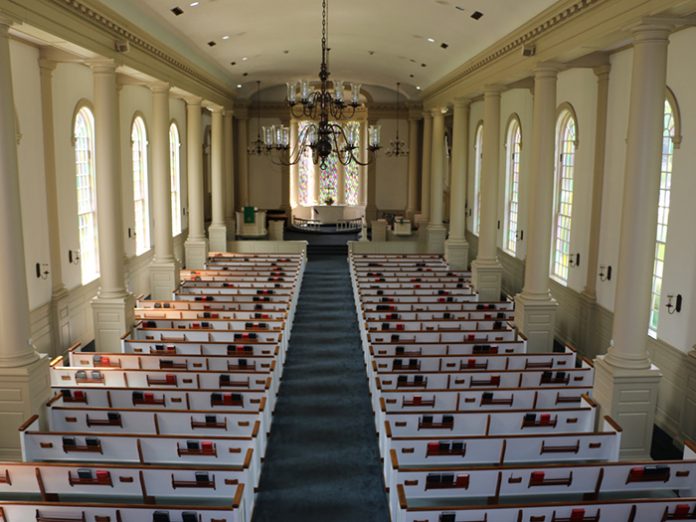 Founded in 1836, Emory & Henry College is consistently ranked among the nation's best private liberal arts institutions. Central to the College's beautiful southwestern Virginia campus is Memorial Chapel, a 500-seat church building that has served as host to thousands of worship services, hundreds of weddings and funerals, and immeasurable special moments in the lives of students and alumni of Emory & Henry College.
This past summer, Memorial Chapel was host to renovation with the installation of a new Danley Sound Labs point source sound reinforcement system.
"The previous installation used ceiling speakers that were installed 35 – 40 feet in the air," said Justin Plaster of JMP Productions. "This prior design required the speakers to be quite loud to drive sound to event and worship service attendees. With the reverberant nature of the Chapel as well as the height and arch of the ceiling, this made intelligibility of the audio from those speakers very poor. The system was also quite dated."
In addition to the need for a new sound system, the chapel's historic nature also posed an additional challenge.
"Any time you're working to improve sound in a historic location, there are challenges," said Jay Andrews, regional sales manager for Danley Sound Labs. "The installation required that there could be no alteration or structural change to the room. This meant that each speaker needed to blend into its surroundings so they felt invisible."
To meet the installation requirements, Danley Sound Labs was able to match the paint color throughout the room to allow the speakers to blend in with their new surroundings.
By using Danley Sound Labs loudspeakers as well as Danley amplifiers, JMP Productions could increase the intelligible voice lift as well as the ability to carry live and recorded acoustic music. The new installation featured Danley SBH20 loudspeakers as the primary source of sound, along with Danley Cube and Nano speakers for mid-delay and rear-delay fill loudspeakers, respectively. The new Danley sound system is powered with Danley DNA 10K4 Pro amplifiers.
"By using the Danley Cube and Nano loudspeakers, we were able to keep all points of sound near those in attendance," said Plaster. "installing the speakers lower in the room rather than in the ceiling, we could prevent sound reflection in the upper ceiling of the chapel and improve sound quality. Plus, there is nothing quite like the intelligibility you get from Danley products."
Mark Graham, Vice President for Administration and General Counsel of Emory & Henry College, agreed.
"The sound in Memorial Chapel is much improved as compared to just a few months ago," said Graham. "Students, alumni and church members have all commented on the sound and vocal clarity throughout the chapel."
"Through the Danley Direct program and the expertise of the Danley team, we were able to match the perfect speakers for the layout of the room," said JMP's Justin Plaster. "No other company in the loudspeaker industry offers the customer service and care that Danley provides."