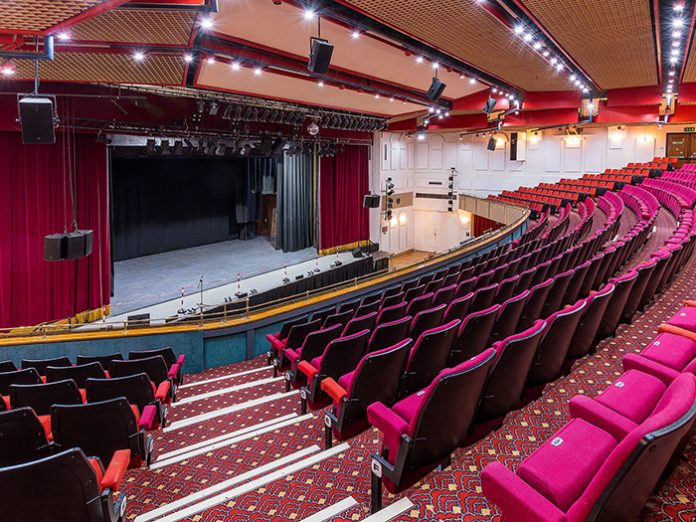 Marquee AV recently installed an EM Acoustics EMS Series point source system the White Rock Theatre in East Sussex, to bring the audio up to the standards demanded by modern audiences.
As Adam Harkin, the venue's technical & building manager said: "Sound is everything – without sound, there's no show. Our new EM Acoustics system stands head and shoulders over what we had before which was old and no longer fit for purpose by modern standards. What we have now is simply amazing – it's a proper theatre system and has made a huge difference – everyone can hear everything regardless of where they are sat in the venue."
When the decision was made to change the existing sound system, the job was put out to tender. Two bids from high profile manufacturers were retained along with the bid from Marquee AV with EM Acoustics. "Marquee AV turned up with two speakers on sticks for the demo, and it filled the auditorium. We thought, 'Wow! If that's what they can do with two speakers, what will a full system be like!' And so that's why we went with EM Acoustics – it was just better than anything else we heard."
The final system comprises a cluster of three EMS-122s flown per side and two for the centre, two EMS-215 subs per side and a circle delay system of five EMS-121s.
"The venue is extremely wide and shallow which is why we went for a point source system rather than a line array – in fact, lots of incoming shows have noted that they're glad we went for point source because line array systems don't really work in here."
"We have everything from a man and a mic right through to major musical productions like Joseph and his Technicolour Dreamcoat, rock bands, tribute shows, pantomime and more," continued Adam. "Most of them tour with their own PA, but as soon as they hear the EM Acoustics system, they usually decide to leave their gear in the van and use ours! Some of the louder rock bands may bring in a bit of extra bass to fill out the bottom end – as I said, ours was designed as a theatre system first and foremost, not a heavy-duty rock & roll system, so the louder acts sometimes like a bit more bottom end – but that's it. Today, I'd say that 80% of shows use our system in its entirety, and 95% will at least link into the circle system. It saves everyone a bit of time and makes for a much easier get-in and get-out."
"To sum up, we are simply delighted with the new system," declared Adam. "The sound is warm and natural, amazing for the spoken word. It's solved our sightline issues. In fact, it does everything and more of what we need it to do. We may decide to add to it in the future if we get more rock bands coming in, but for right now, it's perfect for our needs as it is. We love it!"