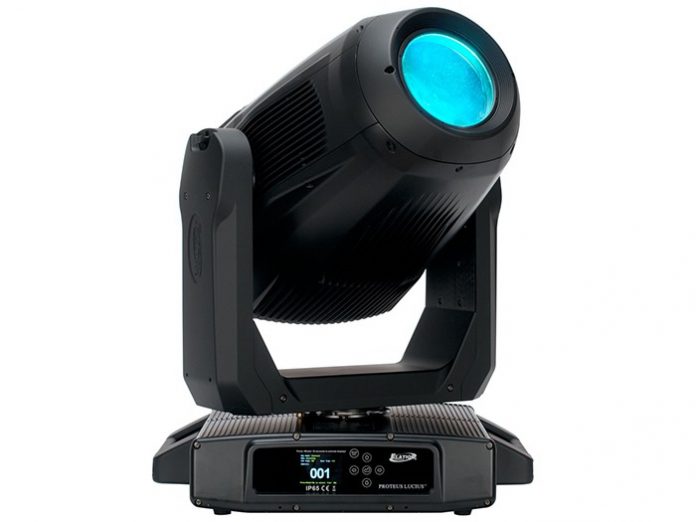 The latest step in Elation Professional's quest to provide the foremost range of IP65 moving heads on the market is perfectly embodied in the new Proteus Lucius.
Available now and shipping, this fully loaded LED profile luminaire in Elation's award-winning Proteus line is fit for use in any production environment, indoors or out, and due to its all-purpose functionality can be used anywhere in a rig.
"The Proteus Lucius is truly the perfect profile fixture," commented Elation Product Manager Matthias Hinrichs. "High output, compact and comparable in weight to older generations of fixtures, it is jam-packed with features while being fully sealed from environmental influences. Never before has an IP fixture delivered so much in this form factor; there are really no compromises. It can be used on touring productions or any type of event, and is perfectly at home on long-term installs like themed environments. It does everything well with outstanding performance while having the added benefits that come with the IP65 rating."
A compact brother to Elation's 50,000-lumen Proteus Maximus, the Proteus Lucius outperforms leading 1000W class discharge profiles with up to 33,500 lumens of output from a custom-designed hotspot 580W bright-white LED engine (6,500K). The fixture offers many other benefits over existing fixtures besides greater output. With a wider zoom range, more gobo options, added framing, and tidier form, and all at a price that puts a smaller dent in the budget, Elation has managed to pack everything a creative designer needs to impress in one unit, reducing the need for variant fixtures.
Proteus Lucius has flexible use as a profile, beam or wash light and with its 2.5 to 1 hotspot ratio has the ability to throw light at impressive distances. With a fast zoom range from 5.5° to 50° out of a surprisingly compact fixture design, the Lucius has the power to cut through on any stage. Zoom wide for a wash of gorgeous colour from a CMY color mixing system with variable CTO or zoom tight to project a powerful, tangible shaft of narrow light.
Complementing the CMY colour mixing system is a 5-slot colour wheel that includes an 85+ high CRI filter. Designers have access to a comprehensive FX package that includes 13 rotating and 7 fixed glass gobos across three gobo wheels. Effects can be multiplied via an overlapping 4-facet or linear rotating prism and a 360° bi-directional animation wheel can be engaged to bring graphics to life. Two variable frost filters (light and wash) can be applied for an even diffusion of light when designers wish for softer gobo or powerful wash effects. A high-speed iris with variable pulse effects and high-speed electronic shutter and strobe can be engaged for further impression.
The Proteus Lucius also includes an indexable four-blade framing system with full blackout shutter cuts for full control of the beam shape and projection at any angle. Internal colour, framing, prism, and frost macros have been included to easily recall commonly used effects. The fixture dims smoothly all the way to zero with smooth 16-bit selectable dimming curves included.
Compact for its class and touring rugged, an IP65 rating and completely sealed optics mean the Lucius is ideal for exposed outdoor environments like outdoor stages, theme parks and cruise ships. Yet its IP-rated properties are just as beneficial in dirty or humid indoor settings where dust, grit and moisture can unwittingly wreak havoc on lighting gear. Because the fixture is environmentally sealed from moisture, dust or any particulate, including airborne haze and fog, its internal components seldom require cleaning with no degradation of the optics. The result is less operational costs and a longer product lifetime.
The Proteus Lucius's impact will also be welcome in TV and other broadcast environments thanks to quiet operation and an LED refresh rate frequency that can be adjusted remotely to avoid any flickering, a must when working with today's sensitive camera systems. The Lucius features a redesigned, more compact base compared to previous Proteus moving heads, meaning it can more easily fit in a pre-rigged truss or stand more discreetly on the floor. The fixture includes a Hibernation Mode for power savings and comes with all the professional control and IP-rated connection features that designers would expect from a cutting-edge weatherproof luminaire.