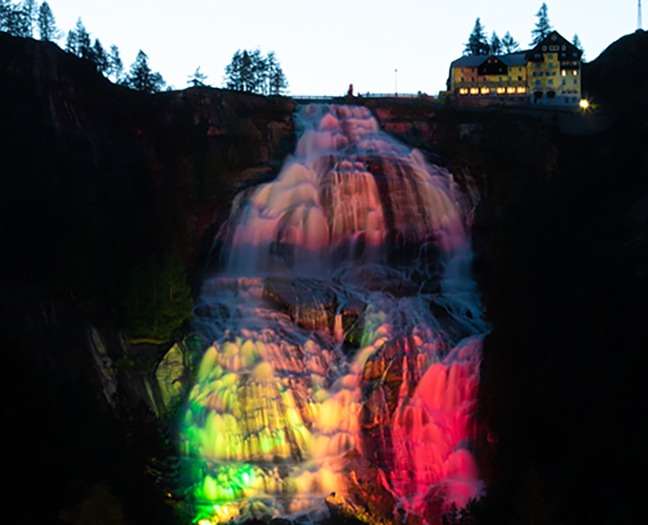 The harmonising elements of light and water came magically together at Toce Falls by Lake Maggiore in the Alps of Northern Italy (Cascata del Toce) during an evocative light and music show designed by Pierre Gèlil. For a special event held June 28th – 29th , the designer turned to colour-changing Elation Paladin lighting effects to visually paint one of the most spectacular waterfalls in the region.
Pierre, who also works as director of Teatro Maggiore in Verbania, was looking for a suitable product to illuminate the breathtaking but complex location. Seeking a watertight fixture that could put up with mist from the Falls as well as weather extremes, Elation's Italian partner, Audio Effetti, proposed the Paladin, a versatile multi-functional LED wash light with high luminosity, chromatic performance and IP65 housing.
Sealed against water or dust ingress, the Paladin, with 24x 40W RGBW LEDs and six to 32-degree zoom, can flexibly adapt its beam to all surfaces and is particularly suited to illuminating objects located at very long distances. Pierre used 10 fixtures mounted at
various positions to illuminate the 143-meter drop of the waterfall, which spreads out at the bottom to a breadth of 60 metres. By synchronising the dynamic light show with music, the effect was especially moving and of great impact for those present. The event will be repeated on the 20th and 21st of September.