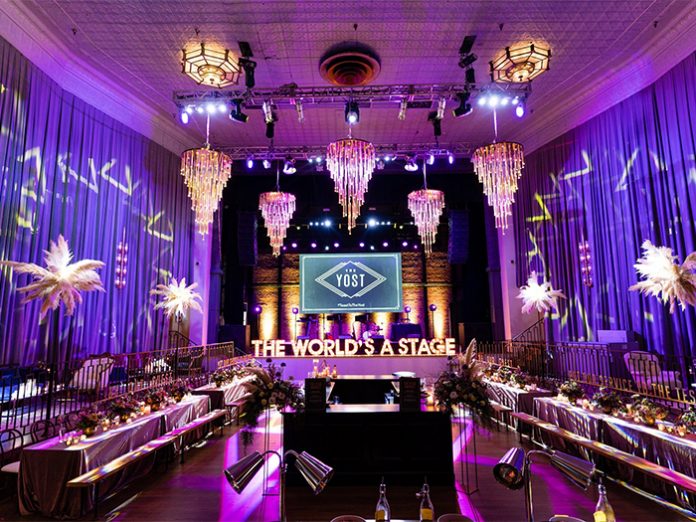 The Yost in Santa Ana, California, is a modern live event space that includes Elation Professional lighting.
First opened in 1913 and listed on the National Register of Historic Places, the space initially housed vaudeville acts, silent films, and talkies but has also seen service as a live theatre, house of worship, live performance venue and nightclub.
Owner Kris Plourde started renovation of The Yost in June 2017 and equipped it with customizable Elation lighting system, QSC line array and large 3mm LED wall, which can transform events into extraordinary experiences.
Kris explained: "It has a mid-century meets modern vibe, taking you back in time but with the production capabilities of today. We wanted to bring the venue back to its roots and put client events center stage so we pulled everything out and rebuilt the entire system, not only to bring it up to date but to give the venue the tools it needed to take events to the next level."
Previously run as a nightclub, there were already some Elation fixtures in the lighting rig when Kris took over, including older Elation Design Wash LED Pro moving heads and Opti Tri Par lights. Kris stripped the entire system down and reinstalled everything from scratch. He then updated the system with Platinum HFX multi-purpose moving heads for spot, wash and texture duties and Event Bars for precision pin-spotting and aerial effects.
The Platinum HFX does most of the heavy lifting, said Kris, with everything else playing a supporting role. "The HFX can not only do a colour wash on stage, but provide aerial beam effects, mimic a follow spot and add texture to the walls, curtains and floor. The list goes on-and-on. Having a hybrid fixture is like having three lights in one without having to have an entire ceiling filled with lights."
He continued, "No two events are the same so having a fixture that was flexible and discreet was a priority. With the Platinum HFX we were able to get not only the output needed, but a multi-purpose fixture in a compact package."
Antari F1 Fazers are used in The Yost for atmospheric haze and provide the mid-air canopy for lighting effects. A High End Systems Road Hog 4 lighting console runs the entire lighting system.