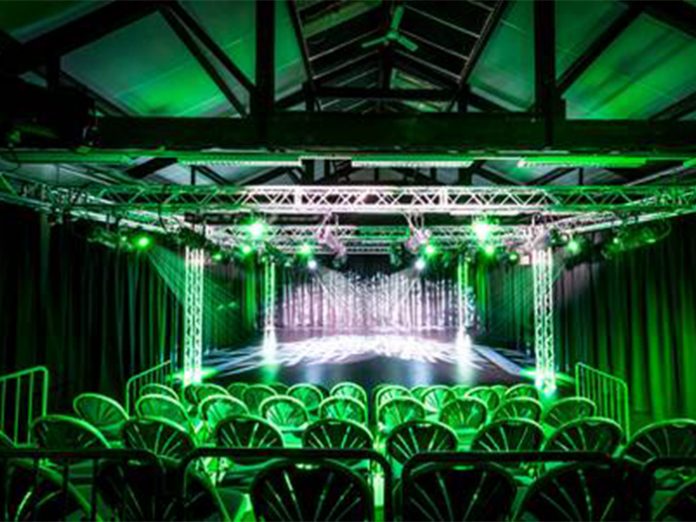 A.C. Special Projects (AC-SP) has provided lighting and audio technical facilities for two new drama spaces at Sheffield Hallam University. AC-SP designed, supplied and installed all aspects of lighting and audio performance rigs for new upper studio and lower performance spaces.
Project Manager, Chris Little, worked closely with the onsite technical team to maximise the University's return on budget by utilising brands including Chroma-Q, ProLights, Spotlight, Jands, Tourflex Cabling, ETC, LumenRadio, D.A.D, Allen & Heath, Litec and Doughty.
Working with empty shells, Chris first came up with initial designs and layouts, along with the power distribution and DMX data wiring requirements needed to create the room infrastructures.
In the smaller upper studio, to maximise the grid height, Chris specified a lightweight U-shaped aluminium lighting grid with custom brackets, to fit around the room's large central roof light in front of the performance area. In the larger lower performance space, he specified and supplied a 13.5 metre by 9 meter by 3.5 meter custom ground mount Litec truss to fit under the existing roof beams.
For both spaces, Chris specified Chroma-Q Color One 100X RGBA full colour LED PARs and ProLights Eclipse Junior 'Tungsten' white LED Spot Profiles, plus conventional Tungsten fixtures including Spotlight Area 12 Tungsten Fresnels and ETC Source Four zoom lanterns. For the lower space's more ambitious productions, Chris specified additional ProLights LED Eclipse FC full colour Profiles, Jet Spot 3 moving spots, and Diamond 7 full colour moving wash lights with pixel control.
ETC Smart Module 2 units provide dimming to the conventional Tungsten fixtures, and Tourflex Cabling 16-amp to PowerCON distribution boxes provide power to the LEDs. Each space features a Chroma-Q 4Play 4-way DMX distribution system and LumenRadio wireless networking receivers. Control is provided by Jands Vista S1 & M1 consoles with LumenRadio transmitters, which gives operators the flexibility to set up the control surfaces anywhere in the spaces.
AC-SP also supplied D.A.D Touring Power Series 208A active speakers. The upper room is operated via an Allen & Heath Zed 10 mixing desk. For larger performances in the lower space, there are local facility panels for the client to bring in external desks, plus D.A.D 15″ subwoofers.
In addition, AC-SP provided all related support clamp and safety bond equipment, plus a full perimeter Doughty track and drape system for the lower performance space, including black wool serge drapes.
All associated specialist PowerCon, DMX and audio cabling infrastructure was custom manufactured by A.C.'s in-house Tourflex Cabling cable assembly service, along with facility audio panels. Once the systems were fully installed, Chris programmed all the DMX addressing for the various fixtures into the Jands Vista consoles, and set up pre-set 'looks', so the lighting was all ready to use.
Kevin Mason, Faculty Technical Manager of Sheffield Hallam University, commented: "A.C. Special Projects have fully delivered on our technical needs, budget and deadline, and we are very happy with the systems."