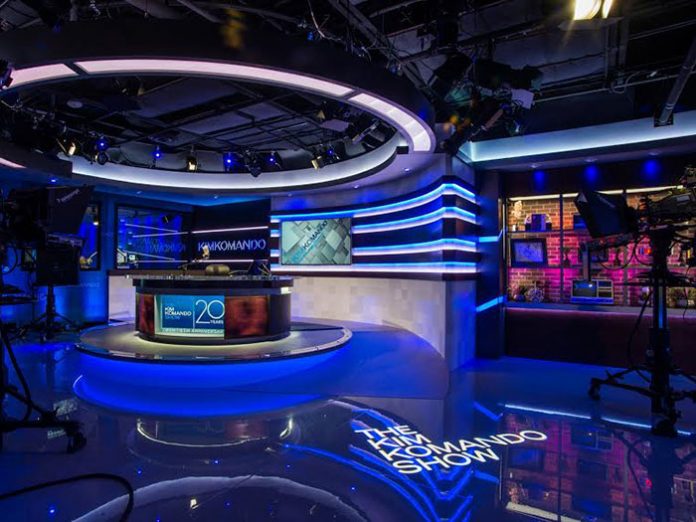 Known as America's Digital Goddess, Kim Komando helps people across the U.S. and Canada understand all things digital on The Kim Komando Show, broadcast live each weekend on nearly 500 stations by the WestStar TalkRadio Network and streamed to a growing online audience. The popular technology talk show is now airing from a new modern facility in Phoenix outfitted with over 100 LED lighting fixtures from Elation Professional and Acclaim Lighting.
Innovative Show Design Scenic and lighting production design firm Innovative Show Design was contacted about the need for a new lighting scheme by a Kim Komando team that had clearly put some thought into lighting concept ideas, even coming to the table with its own lighting renderings. ISD subsequently designed, installed and programmed an new all-LED lighting system, working closely with lighting vendor CYM Lighting Services. ISD also designed, built and installed a new set, which meant they came onboard early enough to consult on important lighting related matters like the electrical design of the studio as well as designed the on-air graphic package and all scenic graphics.
The Elation LED lighting is located throughout the complex with the majority of fixtures used in the main studio set, which is made up of three areas – Kim's broadcast desk, a screen caller area, and an area designed for future use, perhaps social media interaction. The lighting consists of Elation SixBar 1000 LED battens, SixPar 200 LED PAR colour changers, Colour Chorus 12 LED battens, Colour 5 Profile ellipsoidal spots, DW Fresnel dynamic white light fixtures, Elar Q1 compact PAR lights, and TVL2000 and TVL3000 white light LED Fresnels. High-output Quad Eye LED down lights from Acclaim Lighting were also incorporated into the design.
Innovative Show Design lighting designer Justin Garrone worked closely with set designer Chris Runnells of Innovative Show Design to incorporate the lighting elements into the set itself. "He and I designed the set and the lights at the same time," Justin explained. "This allowed for the set to practically light itself. There are a lot of light boxes, internal glowing elements and architectural lighting features."
With eight HD cameras in the studio, lighting fixtures with colour rendering levels sufficient for broadcast were required. "CRI was very important to me," said Justin, who was impressed with the high CRI levels of the Elation fixtures, which are all above 85. "I really didn't want to have to start colour correcting LED's to pull certain colour wavelengths out of them. The fixtures from Elation met and exceeded my expectations."
Needing a fixture he could shutter, Justin turned to the Colour 5 Profile to fill the role. The ellipsoidal spot's added lime green LED enhances the production of variable white colour temperatures from 3,200 to 6,500K while increasing the CRI. "The Colour 5 Profile has a nice white light and the lime green LED helps get white in your chosen colour temperature," he said of the fixture, which is used to light the show's intro and all of the stand-up locations.
Illuminating graphics behind Kim Komondo's desk in even washes of coloured light are Colour Chorus 12 LED battens while TVL 3000 fixtures with dynamic white LEDs are used for backlight and front fill in all areas. The white light TVL luminaires blend 3W warm white and cool white LEDs for a uniform projection of flat white light and also fulfil the high CRI requirement. Justin said: "They are a nice and compact fixture with no fan so are very quiet. The lens kit gives us the flexibility to project a narrow beam angle or we can flood it out."