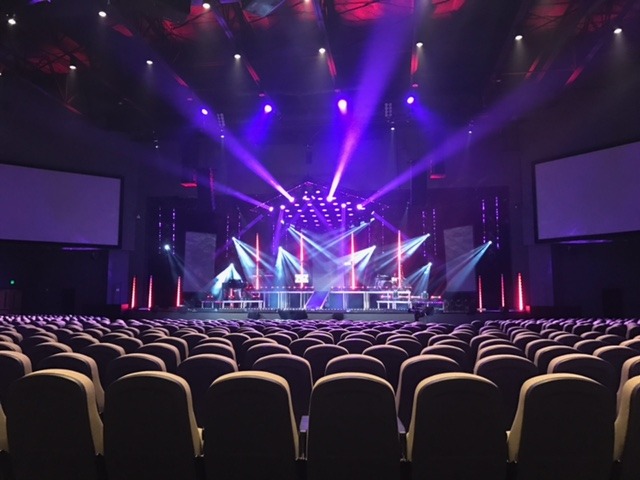 NewSpring Church is a house of worship success story. Founded only 17 years ago in 2000, the Southern Baptist megachurch has grown to stretch across 14 locations and is now the largest church in South Carolina. It's also one of the fastest growing ministries in the U.S.
When NewSpring's Anderson, South Carolina campus sought to upgrade the lighting system in its 2400 seat worship space, they looked to Erien Reinerth of LMG, who has been working with the church for the last nine years and consulted with the church on the best lighting system for their needs.
"The Anderson campus needed a flexible lighting system that could be moved around and used in different stage designs," said Reinerth, Sales Engineer at LMG. "We chose a state-of-the-art lighting system from Elation that allows the church to be highly creative and produce a variety of different looks."
NewSpring presents live music from a variety of musical styles, from popular radio play to traditional church hymns, to captivate its congregation and draw them into the message. Each musical style requires its own custom lighting design and church lighting designers, under Technical Director Joel Yates, Josh Garcia and Travis Bolton, of whom possess an assortment of Elation moving head and effect lights to choose from.
The new rig consists of: 24 hybrid Platinum HFX, 10 Platinum Spot 15R moving heads used for beam, spot and mid-air looks, 20 ACL 360 Bar LED battens for dynamic movement effects, 10 Sniper effect lights for beam, scanner or laser simulated effects and 36 SixPar 300 LED Par lights, which, in one recent design, were grouped in an eye-catching overhead matrix and used to colour wash virtually any part of the stage. The lighting rig is controlled by a High End Systems Road Hog Full Boar 4.
In addition to the lights in the rig, some 320ft of Flex Pixel WP tape lines and fills the backstage in decorative lines of colour that works with the lighting in a coordination of dynamic colour and chase effects. Easy to incorporate into any décor and customisable to any length, the pixel tape is a cost effective solution for simple colour washing and effects and is easily pixel mapped for complete design integration.
NewSpring's new lighting package is used during Sunday services, as well as at Wednesday night 'Fuse' youth services, a ministry for 6th-12th graders. "Besides the flexibility that multi-functional intelligent lighting fixtures give you, including their versatile optics, getting a professional set of features at such a good price point was important in the decision to go with Elation," Reinerth states. "The new lighting has been used in a lot of different configurations since being installed and the client is quite happy."
The lighting install at the NewSpring Anderson campus was completed early in 2017. LMG headquartered in Orlando with offices across the U.S., recently providing: high definition video projection, sound reinforcement, lighting, and a broadcasting package for: NewSpring's Greenwood, Charleston, Florence, Myrtle Beach, and Clemson campuses.