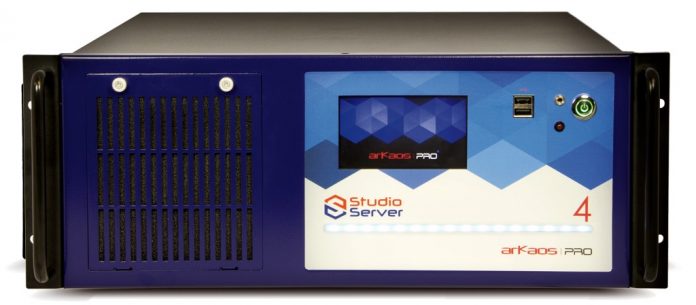 Elation Lighting Inc. based in Los Angeles has been successfully offering Arkaos MediaMaster Express software for the past five years, as well as integrating Arkaos Kling-Net protocol into many of its lighting products. Elation has now entered into an agreement with Arkaos and A.C. Lighting Inc. to start selling Arkaos media servers to Elation's U.S. and Mexico dealers.
A.C. Lighting has been the exclusive North American distributor for the ArKaos range of media server solutions since 2012. The agreement between A.C. Lighting Inc. and Elation opens access to these powerful media servers to the entire Elation dealer network in the U.S. and Mexico. Eric Loader, Elation Professional Sales Director commented on the agreement, "As the market convergence between lighting and video continues, our customers need more powerful and flexible plug and play control solutions. Arkaos media servers provide all the power and scalability ideal for a variety of applications. We are happy to be working with A.C. Lighting to help build the demand and market for Arkaos products in the US and Mexico."
A.C. Lighting will support Elation in the supply, training and service of Arkaos hardware solutions beginning this summer. Elation will be showcasing the Arkaos media servers on Elation Booth 7345/7243 at the upcoming InfoComm trade show in Orlando from June 14-16. "This arrangement will ensure that Arkaos products gain wider visibility within the marketplace," said Fred Mikeska, Vice President of Sales at A.C. Lighting Inc. "It is also a positive step towards opening up new market segments for Elation has a wide reach, as does A.C. and so this collaboration benefits all parties."
Prior to the agreement, Elation was limited to the distribution of Arkaos' Media Master Express software solution only. Now the company can offer the full range of Arkaos products, including their line of powerful media servers.