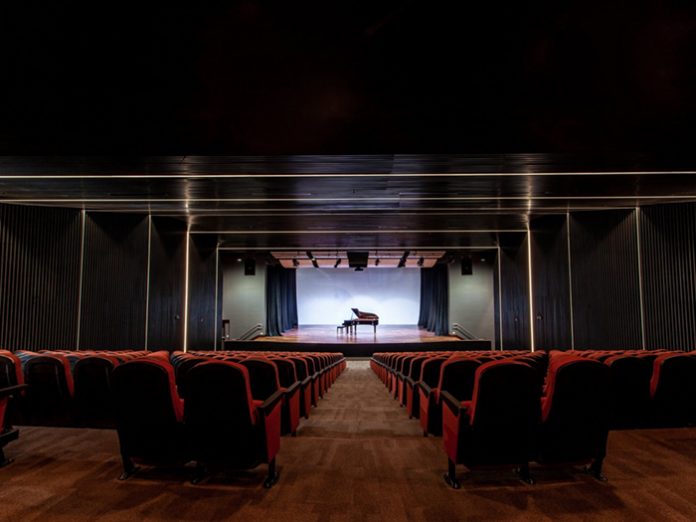 Colegio Humboldt is an international school in San José, Costa Rica, that serves preschool through secondary students. Unique in the country in that the school was founded in 1912 by Germans and emphasizes a German-based education, Humboldt is also known for its profusion of extra-curricular activities. The school recently built a new performing arts space to further its program, Auditorio Humboldt, a multi-purpose auditorium outfitted with Elation Professional luminaires.
Auditorio Humboldt is a modern, 238-capacity space where students conduct recitals and perform all manner of dance, music, theatre and debate. It houses top-of-the-line audiovisual equipment with specialized technical personnel to provide support. Elation dealer and distributor for Costa Rica, Darko Lighting of San José, completed the lighting project. They supplied, designed and installed new stage and architectural lighting systems for the auditorium, along with a decorative stretched ceiling, working in cooperation with architectural company Rojas Arquitectos.
The auditorium's new stage lighting system includes 16 Fuze PAR Z175™ fixtures, a modern PAR light with 175W RGBW COB LED engine that projects a high-quality flat field of light yet emulates the classic lens look of a traditional Fresnel. The Fuze fixtures work with 16 Colour 5 Profiles™, a high-quality ellipsoidal spot with 180W RGBAM LED engine and CRI over 94. For flexibility of positioning, the system also includes four moving heads, Fuze Wash Z350s™, a single-source PAR automated yoke wash luminaire with 120W RGBW COB LEDs and 7° to 55° zoom.
Associate Director of Darko Lighting, Gabriel Zalkindas Jarovisky, specified the lighting system for the auditorium. "Quality, performance and price were all determining factors in the choice to go with these products," he stated. "The lighting system is also quite flexible as it is used for a variety of purposes, both by the school and also outside artists that come in and use the auditorium, so it is both an educational and public space."
The all-LED lighting system is not only highly efficient, reliable and requires little maintenance, it also operates silently for 'you could have heard a pin drop' performances. Using Elation's E-FLY™ wireless DMX Transceiver, not only was setup and programming quick with instant control of the fixtures, they saved having to run meters of DMX to the stage for a cleaner looking install. Lighting control is from a tabletop Elation Show Designer 2CF™ stage lighting controller, an ideal choice for smaller stage lighting setups.
Completed late last year, besides serving as a performing arts platform for students, the Humbolt School Auditorium also hosts cultural events and is available for commercial use.