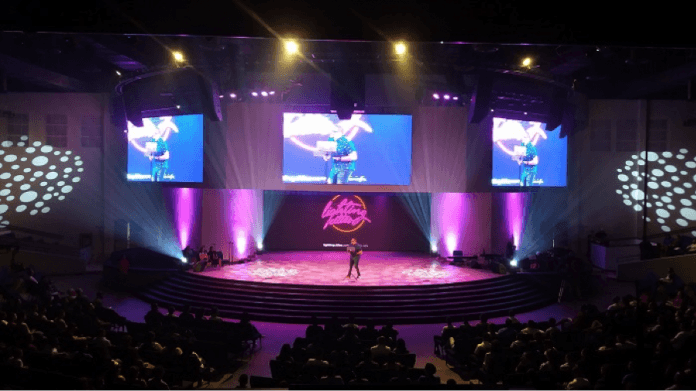 Comunidad Apostólica Hosanna (CAH) is a large evangelical Christian church based in Panama City. The Church is unique from many churches, with its legendary sunday services attracting well over 12,000 practitioners. The Church has a dedicated TV department division allowing CAH to grown to become one of Central America's most influential mega-churches.
CAH contacted California based design and systems integration company Michael Garrison Associates (MGA) asking for them to create a comprehensive conceptual design for the renovation of Comunidad Apostólica Hosanna. MGA's choice for the church was Elation Professional lighting and video products. "We learned that the room was very dated and needed much more than a TV lighting system upgrade," MGA owner Michael Garrison states: "This led to further discussions with the church and CAH ultimately selected a comprehensive design for the renovation of the facility. This included the demolition of the existing stage area and construction of a whole new, multi-level stage, along with the design and integration of all new audio, video and lighting systems."
Randy Garabedian, Senior AVL Consultant at MGA, designed and installed the new lighting system, which consists of Colour Pendant colour-changing LED downlights, Opti Tri White variable white LED Par lights, SixPar Series LED Par colour changers, and Platinum Spot III LED colour and graphics moving heads.
The project was well received amongst locals and was big success for both MGA and Elation. "We are very pleased with our working relationship with Elation." explains Garrison. "They were very helpful during the design phase, where we had many challenges to overcome existing conditions. They were also very helpful with the logistics of shipping such a large order to Panama. And Elation's LED panel product specialist Red Walter was invaluable to us from start to finish – even spending time onsite during the actual assembly/installation of the four video screens."
Diego Reyes, Technology Supervisor at Hosanna Vision, sums up: "On behalf of the entire technical team at Comunidad Apostólica Hosanna, it has been a wonderful experience to develop our main auditorium renovation project with MGA and products from Elation Professional. The end result is that our members now enjoy a quality of lighting and video that sets a new standard for facilities in Panamá City."
CAH conducts a wide variety of events and celebrations in the facility from church services to weddings, graduations, conventions and kids' parties, and the new lighting and video system can be used to enhance them all.