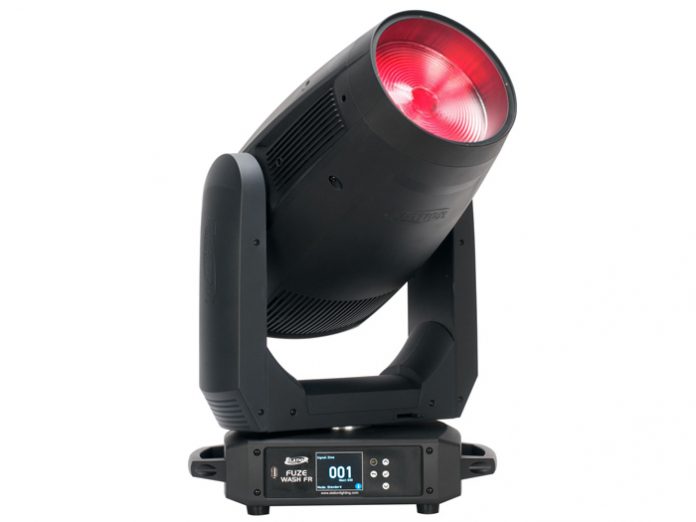 Designed as the perfect fusion of performance, features and value, Elation's Fuze series of LED fixtures has found a niche in the market whenever outstanding price to value is high on the list. Elation is pleased to be expanding the series with the Fuze Wash FR, an automated LED Fresnel fixture with framing designed for a wide array of precision lighting applications and ideal for the refined performance required in theatrical venues.
The Fuze Wash FR features a new 480W (6,500K) 92 CRI engine that utilizes a 5-colour homogenized LED array of Red, Green, Blue, Mint and Amber sources, the same colour system found in the Fuze Profile™ and Fuze Spot™ for a perfectly calibrated colour match.
High colour quality and colour manipulation are central to the Fuze Wash FR. A virtual gel swatch book, virtual colour correction, magenta/green adjustment plus CMY emulation give designers access to an impressive LED colour array including a beautiful mixed white. The carefully-tuned RGBMA LEDs and extremely high native CRI ensure accurate colour reproduction while delivering a powerful output up to 14,000 lumens.
The Fuze Wash FR features a specially designed Fresnel lens for a smooth and even wash and houses an 8.2° to 42.1° (beam) and 12.7° to 62.1° (field) motorized zoom for tight to wide coverage. A full blackout framing system with four rotating blades gives full control of the beam shape when required and can index +/- 60-degrees. A variable frost filter can be added at any time for an extra layer of smoothing. The fixture dims seamlessly all the way to zero with 16-bit selectable dimming curves included. An iris for advanced beam control and high-speed electronic shutter and strobe round out its feature set.
The Fuze Wash FR is designed for any application where an automated Fresnel fixture with outstanding colours, a wide zoom range and framing beam control where a soft field is required. It is powerful enough to use in all sizes of rigs and because it is remarkably silent can be utilized in any noise sensitive environment. The Fuze Wash FR is fully optimized for broadcast environments as well with LED frequency adjustment for flicker free operation. It is outfitted with all the professional control and connection features that designers should expect from a modern luminaire.
With the Fuze series, Elation has given the market an option when it comes to compact yet feature-packed professional automated LED luminaires. A truly remarkable compact Fresnel for any application, the Fuze Wash FR is sure to create outstanding projections and beautiful bright washes on any stage.