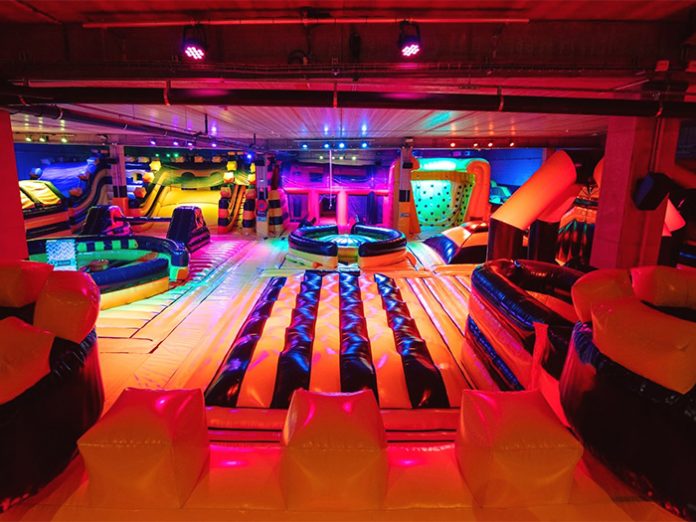 Colours, especially those that are unapologetically bright and bold, hold a special sway over the hearts and imaginations of children. Repeated scientific studies have shown that this is true. But one doesn't need to rely on high-powered research to verify this claim; a quick visit to the JumpSky Inflatable Park will offer more than enough evidence.
Complete shortly before the COVID-19 lockdown led to it to suspend operations, but since reopened, the 2000m² indoor facility, which is located in Gent's trendy Dok Noord shopping area, treats young eyes to a veritable metropolis of inflatable structures of every conceivable shape. Adding to the delightful panorama is a crayon box palette of bold and vivid colours from CHAUVET DJ SlimPAR Pro H USB fixtures that glow throughout the massive room
"This is a playful venue, so I wanted to use all the colours in the rainbow," said Wim Zwarts, owner of DiverZe, which designed and installed the lighting and sound system at JumpSky Inflatable. "Colour is transformative, so we sought to include as much of it as possible in our design. Thanks to the closed character of this venue, we are able to use the UV function of the SlimPars to give us an even bigger and brighter rainbow."
Walking through the inflatable park, children (of all ages) enter a wonderland of spectacular colours that seem to have leapt out of the pages of a fairy tale, or perhaps from the Beatles iconic "Strawberry Fields." There are lemon meringue posts set against expanses of purple; and cherry red structures on seas of deep blues and greens, all tied together in a happy kaleidoscope of whimsical images.
Underpinning this magic is a network of 84 SlimPAR Pro H USB fixtures hung on aluminum tubes set just below the ceiling of the concrete building. The low profile of the RGBAW+UV wash fixtures allows them to hang unobtrusively, so only their transformative effect, and not their housing, is noticed. Being LED units, the SlimPARs produce little heat, and their flicker free operation results in smooth fields of light.
Complementing the lights is a surround sound system. The hourly sessions are ended with a bang, sound and light move together in a captivating preprogrammed show that is constantly being updated. Staff at the park is able to select specific shows at the push of a button. Engaging looks programmed by Glenn Van Campenhout, work in harmony with the sound.
JumpSky, owners of the popular JumpSky Trampoline Park, opened the inflatable park only a 15-minute drive from the company's original location. Looking to offer something different, they turned this former industrial building into one of Europe's largest and certainly most unique inflatable park.
"My client had the opportunity to invest in this unique site," said Wim. "Rather than open another trampoline park, they decided to go for the concept of a huge indoor bouncy castle."
Kids, and everyone else with a young heart's love of colour, is certainly glad they did.