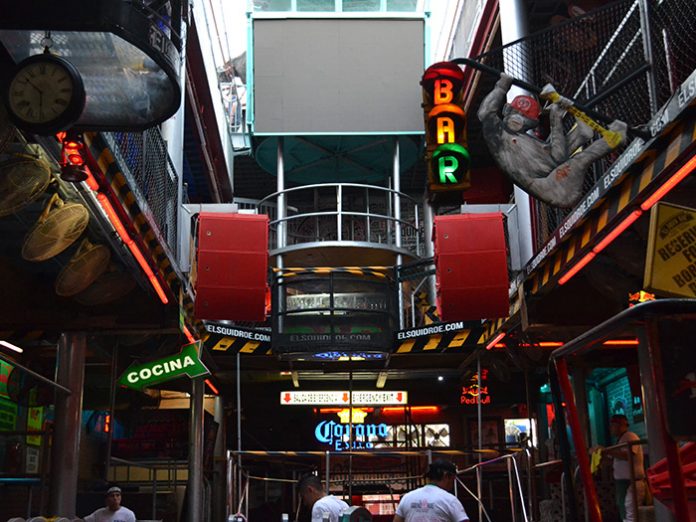 Celebrating its 30th anniversary this year, El Squid Roe is one of the most popular dance clubs in the Cabo San Lucas nightlife scene. A nightclub and restaurant all under one roof, this lounge-cum-party-heaven attracts hordes of fun-seeking tourists every evening. The pulsating energy of the venue is now complemented by the equally striking red ARCS WiFo sound reinforcement system from L-Acoustics, colour matched to tie in with El Squid Roe's vibrant decor.
What seemed like a crazy idea to some back in 1989, when the founders Carlos Anderson and Billy decided to leave their well-established Mexican restaurant and launch El Squid Roe in an abandoned warehouse in the middle of the Baja California Desert, has turned out to be a brilliant concept. Thirty years later, the location is renowned as the best party venue in Los Cabos and has attracted celebrities such as Beyoncé, U2, Alex Rodriguez, and many others.
L-Acoustics loudspeakers were not unknown to El Squid Roe prior to their permanent installation, as the equipment was rented on several occasions before the club decided to do a major update of their existing PA. They appointed leading Mexican audiovisual equipment supplier, Vari Internacional, trusting in their 34 years of experience to deliver a first-class installation.
The venue is spread over three floors with an open-air dance floor, five full bars, a restaurant, clothing store as well as private VIP areas, which makes covering the multi-roomed space a challenge to the team, with acoustic issues also being a major concern.
"One of the key challenges we had to tackle was the acoustics," explained Vari Internacional Live Sound Sales Engineer, Allan Fernandez. "Architecturally, both the roof and main structure of the venue are made of metal, which greatly affects sound quality. On top of that, there were copious amounts of posters and decorations on the walls, which we also had to consider when choosing the system."
To help deal with such a complex setting, L-Acoustics Soundvision 3D acoustical modelling software was utilised. It allowed the team to see accurate visual representations of their calculations, as well as to check for any irregularities that they could evaluate and correct. Alex Soto, L-Acoustics Application Engineer, Latin America – The Caribbean was also on-site, supporting the Vari team with his knowledge of system configuration and calibration expertise.
To provide even coverage throughout the venue, the final system comprised left / right main arrays of two ARCS Focus and an ARCS Wide, with a single ground stack of two KS28 in a gradient configuration, plus four SB18i subs flown in a standard configuration. Providing fill on level one were left / right arrays of two X12 and one 5XT coaxials; on level two, one ARCS Wide per side, with an SB18 plus a single 5XT were deployed, with two X12 providing fill. On level three a further two X12 again provided fill.
Once the system was installed, both the Vari and El Squid Roe teams immediately noticed the difference in performance.
"Once the system was delivered and put into place, it required very little adjustment and the sound was impeccable," stated Allen. "The intention was to deliver a solution that would greatly improve sound quality, and having the venue fitted out with ARCS WiFo was simply amazing.
"We were told that several of El Squid Roe's customers complimented the venue on its improved audio, stating that the music sounded not just audible but punchy and crystal-clear. Also, having ARCS in red meant that we could complement the club's existing colour scheme, which was also noticed by the customers and applauded by the team."