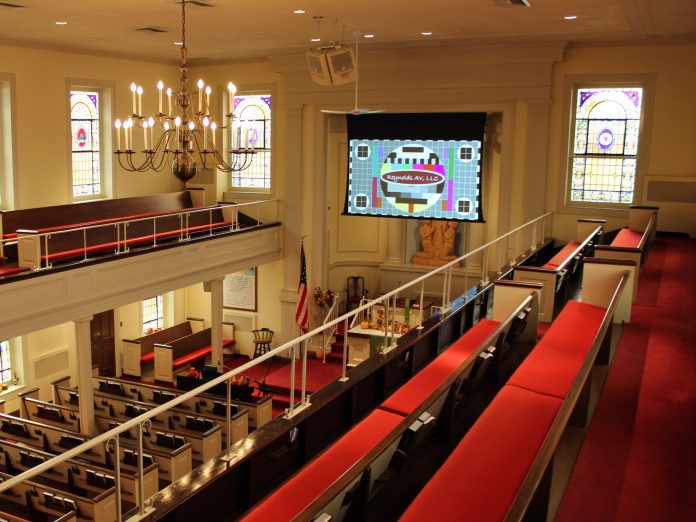 With its goal of following in the Spirit of God and the footsteps of Jesus, St. Paul's Wolf's ECC (Evangelical Covenant Church) gathers to enable and equip people to impact lives for Christ. Offering programs for adults, youth, children, involvement in a food bank, as well as a program to help the homeless, the church has numerous opportunities for its members to get involved. St. Paul's Wolf's recently completed a substantial overhaul of its AV infrastructure, which in addition to a new sound reinforcement system also included new projection capability. On the video side of the equation, the church is now equipped with projection technology drawn from the catalog of Rancho Santa Margarita, CA-based Eiki International, Inc.
Reynolds AV of East Berlin, PA, a full-service design / build AV firm specializing in audio, video, and lighting services, was contracted to design and deploy the church's new AV equipment. Karl Reynolds, the firm's Project Manager, coordinates system design, project management, plus customer training and service for the company. After consulting with church management to determine their goals and requirements for the facility upgrade, Reynolds elected to install an Eiki EK-811W, 8,000 lumen WXGA DLP® laser projector to handle visuals in the sanctuary. He discussed the project and his reasons for installing Eiki projection technology.
"Services at St. Paul's Wolf's lean toward the more traditional with a blend of hymns combined with some contemporary music," Reynolds explained. "The historic sanctuary seats about 250 people and was structurally renovated around 1928. At that time, beautiful stained-glass windows were installed. The cozy atmosphere balances the traditional importance of the worship services. Church officials wanted vivid, clear visuals to help engage the congregation. To accomplish this, we selected the Eiki EK-811W, which handles a variety of content, including PowerPoint presentations, lyrics, and videos, along with output from a Sony HD PTZ camera for Children's Time."
For display of the visuals, the Reynolds AV team deployed a 65-inch high by 116-inch wide Draper screen designed for ambient light rejection. This is a 'reverse roll' front projection tensioned screen mounted behind the opening of the Chancel area. The Eiki EK-811W projector is located on the balcony at the rear of the sanctuary. Throw distance between the screen and projector is approximately 55 feet.
When queried about the features that made the EK-811W projector the ideal choice for the project, Reynolds offered the following thoughts. "The EK-811W's 8,000 lumen brightness is impressive," he reports. "This results in crisp, clear image reproduction that really stands out. Lyrics are easy to read, and the other visuals have a commanding presence. Because of its lampless laser light engine, reliability is high. With its HDBaseT input, the projector can not only handle ultra-high-definition video content, it can also respond to control signals—all over a single cable. These attributes result in a rich feature set, reduced operating expense, and greater reliability."
With many AV projects, questions arise—so the ability to get accurate information quickly is crucial. In this regard, Reynolds is equally enthusiastic about Eiki's customer and technical support services. "We have been Eiki dealers for many years," he said. "Eiki's support services are outstanding! From sales to technical inquires, we've always received a prompt and accurate reply. Another benefit for us is that, being a rental house, we have an authorized service facility nearby. We don't have to worry about expensive shipping costs for those few times when we need to send a unit for service."
St. Paul's Wolf's facility upgrade was completed in early October 2017 and, since that time, Reynolds reports his client is very pleased, "Our customer is very happy with the completed project. From the first meeting, they expressed concern about the ambient light from the stained-glass windows. When designing the projection system, we measured the ambient light with a light meter to ensure optimum image quality on the screen during typical usage. The Eiki projector delivers exceptional images, bright, easy-to-read lyrics, and more. Church officials couldn't be happier."