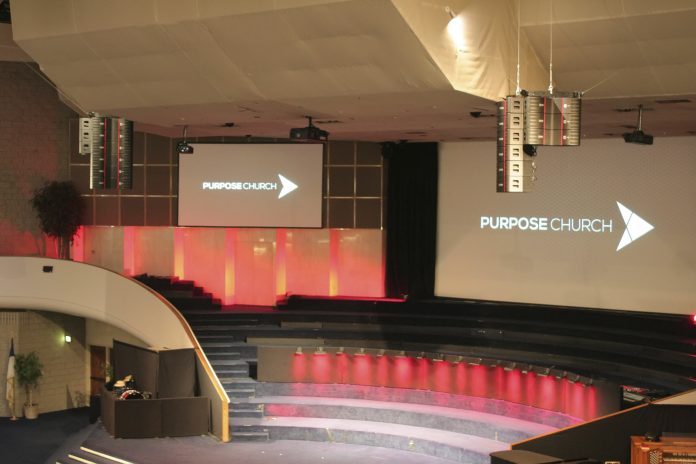 Purpose Church, located in Pomona, California, 30 miles east of Los Angeles, recently installed a new Eastern Acoustic Works (EAW) Adaptive sound reinforcement system to provide their church community with a more complete worship experience.
After the church decided to upgrade the 25-year-old system, Peter Wilson, audio tech director for Purpose Church, and Jeremy Rynders, audio/acoustic system designer, began to research their options.
The fan-shaped church sanctuary, with seating for 1,800-2,000, features a wrap-around balcony that necessitates 180-degree coverage. And, because the space is made up primarily of hard, flat surfaces – with little or no acoustic treatment – the room would benefit from sound reinforcement with custom-tailored coverage, easily defined by the user. Lastly, the church was interested in a system with the ability to vary the coverage, ideally with presets that simplify the process.
"The room is wider than it is deep and features a stage with a band/orchestra space in front of it," explained Peter. "We hoped to put in a system that could easily adapt from full room coverage, to just main seating without the balcony or even dial it in smaller for more intimate events. Anna does all of that and more."
Jeremy ultimately specified a left-center-right system with the left and right arrays made up of two columns – one with six Anna modules and the other with three. The centre cluster consists of two Anna columns, each three high. A total of 24 Anna modules are in use. Anna's 100-degree horizontal dispersion was paramount to providing the coverage the seating area required.
"The system is a true left-right-center system with each array creating a custom shaped 180-degree horizontal coverage pattern," added Jeremy. "EAW's Resolution software is used to change the Adaptive coverage patterns for different seating requirements and for different services. All of the vocals and spoken word go through the center, which covers the entire room. Left and right are music – true stereo from farthest left to farthest right."
Jeremy and Peter worked closely with EAW's Application Engineering team to build the church model in Resolution and create the custom presets that would allow the church team to easily use the system for a variety of applications/seating configurations.
Anna modules provide any desired coverage pattern while hanging straight, without any vertical splay or array curvature, allowing the left and right arrays to be hung high enough to keep the line of sight for the video screens open while still serving the audience seating directly below. The centre cluster is located behind a screen, making it virtually invisible. Because Resolution 2 software creates the ideal coverage pattern based on simple user input, the Church had much more flexibility in placement of the arrays than with a traditional point source or mechanically-articulated line array solution.
"At one point, we looked at building a point source cluster that would do what Anna did and realised it would take days to achieve such seamless coverage – plus more work, more amplifiers, more fine-tuning and it would not be better or as versatile," said Jeremy. "So why do it? This was the ideal solution for this room and it gave the church exactly what it wanted."
"What makes what we do here really challenging is that we do three different services designed to attract three totally different audiences – choir, contemporary, and alt-contemporary. We have two different bands and we don't have a lot of time to sound check," Jeremy concluded. "So what we pull off every Sunday is complicated. Having a system that meets all of that criteria in a single day is impressive. It's a unique challenge and Anna met it."